Orange CEO Reveals Next iPhone to Go Thinner, Smaller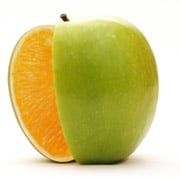 It's been no secret that Apple's design mantra has been to go in the 'nano'-me direction, even going as far as trying to shrink SIM cards, and now carrier Orange CEO Stephane Richard has revealed that the next iPhone will be both slimmer and smaller. It's unclear if that means that Apple will be shrinking the overall package of the iPhone, lending to an even smaller display, or if Richard meant to imply that the next iPhone will be smaller, as in slimmer, than the current-generation iPhone 4, which Apple had boasted is the slimmest iPhone at the time of the device's announcement.
Richard's comments come just as we're hearing resurrected speculations behind a 4-inch iPhone 5 with a larger display to tackle the growing screen sizes of Android smartphones, which currently tops out at 4.5-inch with the Samsung Infuse 4G.
In an interview with All Things D Richard says that Apple had at first proposed an iPhone sans SIM, but was discouraged from offering a device based on security concerns from the carriers. "All of us told them it was a bad idea because the SIM card is a critical piece of the security and authentication process," says Richard. It seems that Apple has been dissuaded from going with its vision, and we can perhaps see even smaller SIM cards than today's micro SIM format moving forward, and even perhaps an embedded, non-replaceable SIM.
The Orange CEO says that "I understood that the next iPhone would be smaller and thinner and they are definitely seeking some space."
Richard was also very frank about discussing Apple's rivals. In regards to RIM, Richard says that they should address quality issues. In terms of Android, Richard is fearful that "the risk theoretically is more for Google to use releases–Android releases–as a weapon in their relationship with device manufacturers and indirectly with telcos than anything else." And with the Nokia-Microsoft partnership, he says that it will be difficult for both companies to try to gain market share away from RIM, Apple, and Google.
In the tablet world, Richard expresses the view that the iPad is still the standard for tablet computing: "To me as a user and as a partner, there is the iPad and there is the rest." He is careful to say that the market is still nascent and is prone to a lot of change: "Nobody knows what is the mix or the range of devices that we will have."
To catch the full candid interview, you can read Ina Fried's post at All Things D.

As an Amazon Associate I earn from qualifying purchases.