Order & Chaos 2 Release Date Arrives
The wait for Order & Chaos 2: Redemption, the massive online role-playing game built specifically for smartphones and tablets, is finally over. The Order & Chaos 2 release date is here, and it could be the biggest mobile gaming launch the iPhone, iPad, Windows Phone and Android devices see for the rest of the year.
Gameloft announced that the Order & Chaos 2 release date had arrived just hours ago on the game's Facebook page. Order & Chaos 2 lets gamers create a hero and then spend hours crafting items and customizing that hero as they complete story quests and go hunting for activities. The game is a huge world, stuffed full of options and things to do. The first Order & Chaos is still enormously popular, with millions downloading it on iOS, Android and Windows.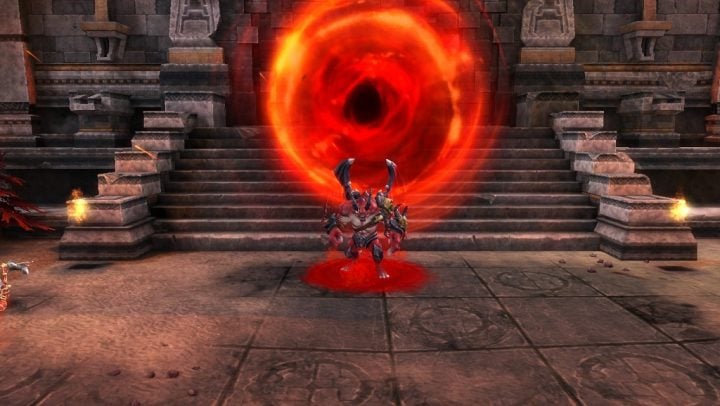 Order & Chaos 2: Redemption is available to iPhone and Android users now. Gameloft confirmed to GottaBeMobile that there'd be a Windows Phone version at launch too, but it's not showing up yet in the Windows Phone Store. Presumably, it will over the next few hours. Order & Chaos 2 is absolutely free for users to download to their device. That being said, there are in-app purchases that unlock currency in the game. That currency can be used to speed up the experience in frustrating situations. In-app purchases for Order & Chaos 2 start at $4.99 in the iTunes App Store and increase from there.
Read: 6 Early Order & Chaos 2 Tips & Tricks
A special Order & Chaos 2 release date trailer reveals a of back-story for the game. The heroes of the previous game spent years finding the Primal Heart and a way to destroy it. When they did that they thought they were solving the world's problems. It turns out that they weren't. Heroes begin dying out. Order & Chaos 2 begins as the world is trying to start anew.
Order & Chaos 2 players get two slots to create their own custom hero. Heroes can be human, Mendel, Elf, Orc or Kratan. Once a player chooses their character's race they then have to choose their character's class. Warrior, Ranger, Mage, Blood Knight and Monk are among the available options in Order & Chaos 2. Each race and class has its own unique abilities and looks. Players have to unlock more looks, gear and abilities as they complete missions.
That's just the story mode. Online multiplayer lets Order & Chaos 2 players team up to go dungeon hunting together.
In the Order & Chaos 2 release date trailer Gameloft describes the game as the "best MMO RPG for mobile." Certainly, it's pretty robust. Whereas many mobile games focus on top-down cameras and taps for combat, Order & Chaos 2 takes place in three-dimensions. There's so much to explore and do in the game that it may be too complicated for someone who has never played a robust role-playing title on consoles like the Xbox 360, Xbox One, PS4 and PS3.
When users are stuck they can purchase Runes to get their character progression back on track. A bag of Runes starts at $24.99. Again, items don't have to be purchased, but doing so speeds up progress for crafting more robust weapons and extras.
The iOS version of Order & Chaos 2 requires that users have Apple's iOS 7 operating installed on their device or anything that came after it. This means that even users with an iPhone 4 can play the game. The Android version of the game requires Android 4.0 or higher to install. It's safe to assume that Windows Phone version will require Windows Phone 8.1 to install.

As an Amazon Associate I earn from qualifying purchases.