Origin Omni is The Ultimate Gaming All-In-One
Ultra-powerful PC maker Origin is hoping to invade the only remaining form factor that PC gaming has yet to supercharge with powerful internals and sleek design. At CES 2016 the company announced the Origin Omni, a new PC that has the form factor of an all-in-one machine and can easily accept upgraded components on a regular basis.
The Origin Omni is a massive machine with all the features that a high-end gaming PC buyer would expect. The front is dominated by a 34-inch Curved QHD Display that has a resolution of 3440 x 1440 pixels. The entire PC sits on a V-shaped metal stand painted in black. Internal components are cooled by the same Frostbyte technology that's used to liquid cool the gaming PCs that Origin makes with traditional desktop designs. An integrated web camera sticks out past the thin-bezel of the display.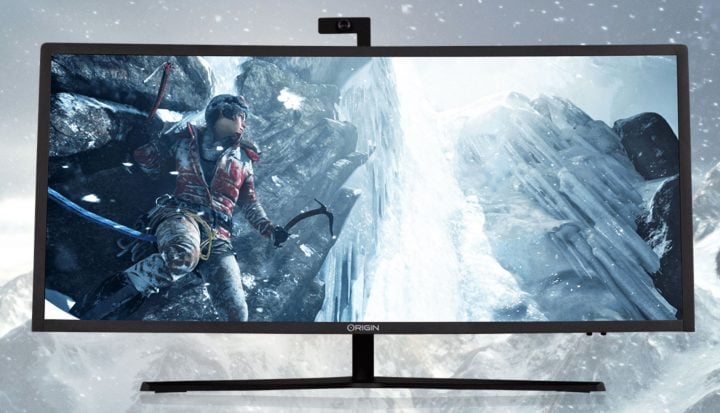 All of the Origin Omni's components are mounted behind its screen for easy access. The components are Mini ITX based, meaning that users can switch out components that don't meet their requirements as the device ages. Custom build options will include an Intel Core i7 5960X and Intel Xeon E5-2699 processors. The company is also promising NVIDIA GeFore GTX Titan X graphics cards, dual standard-size hard drives for the most storage possible and up to 32GB of RAM.
All told, the Origin Omni seems like just the thing to get PC gamers away from giant tower cases and into something a little more stylish. The only thing holding the all-in-one form factor back in the gaming space was the lack of upgrade options after purchase. The Origin Omni certainly solves that problem.
Origin says that the Origin Omni will go on sale sometime before July. Potential buyers can submit their email for a reminder in the Origin Store for now. The company is remaining very quiet on how much a base configuration of the Origin Omni will cost when it does arrive officially.