OS X 10.11 El Capitan Release Date Breakdown
Today Apple has announced OS X 10.11 El Capitan, which is the next version in the series that will succeed OS X Yosemite.
OS X 10.11 doesn't include any major design changes over OS X Yosemite, which isn't too surprising, but El Capitan comes with a handful of new features that Apple showed off during the keynote. These include improvements for Spotlight Search, the Mail app, Safari, and some enhancements to Finder.
Unfortunately, it doesn't seem that OS X 10.11 is a big update from OS X Yosemite, and Apple didn't spend a lot of time talking about the new operating system — maybe about five minutes, tops.
However, there are still a lot of smaller features that users will take advantage that will make a big difference in how they work, and we bet that we'll see Apple tease some more features over the summer up to OS X 10.11's release later this fall.
In any case, here's a breakdown of the OS X 10.11 release date, and some further details about the new features that are coming to OS X 10.11.
OS X 10.11 Beta
Apple announced that the first beta for OS X 10.11 El Capitan will be available to developers starting today.
It's unknown as far as how developers will be able to get their hands on the beta, but the process will likely remain the same as past OS X releases.
The OS X 10.11 beta will give developers the chance to not only check out the latest version of OS X before anyone else, but developers will also have the chance to find any bugs and report them to Apple before the public release arrives.
As for a public beta, Apple says that anyone will be able to try out OS X El Capitan at some point in July, but a solid release date for the public beta has yet to be disclosed.
OS X 10.11 Release Date
While Apple is making OS X El Capitan available to developers today and a public beta coming in July, the company didn't provide a solid release date for the final public version.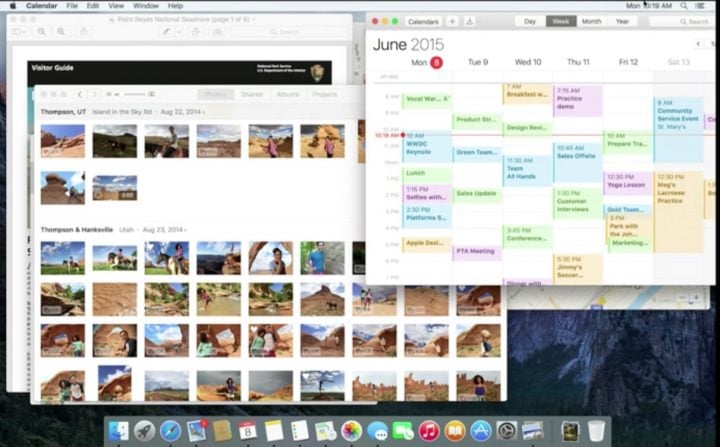 However, the company did say that OS X El Capitan will officially release in the fall at some point. Last year, OS X Yosemite released on October 16, and since Apple is fairly predictable as far as release dates for its products, it's safe to say that OS X El Capitan will release at some point in mid- to late-October.
Leading up to that date, though, we should be hearing a lot about the operating system as Apple teases OS X El Capitan more and more over the summer, including all of the new features that will arrive with the latest version of OS X.
OS X 10.11 Features
As aforementioned, Apple didn't spend a lot of time discussing the new features of OS X El Capitan, and there isn't anything mind-blowing with the new operating system, but there are a handful of new features that many users will love.
First off, Apple showed off some new swipe gestures that you can use with your Mac's trackpad, including in the Mail app where you can swipe to delete email. You can also use new swipe gestures in Safari where you can pin tabs off to the left side to save space and bring them up later when you want to open them again.
There's also a new feature in Safari where the browser will automatically detect any auto-playing music or videos you can instantly mute it up in the address bar. There have been browser extensions that were able to do this, but now Safari includes this by default in El Capitan.
As for improvements to Spotlight Search, you can type in something and get a lot more info back. For instance, typing in "SF Giants" will not only bring up info about the next game, but you can also quickly look at weather in San Francisco if you're planning on attending the game.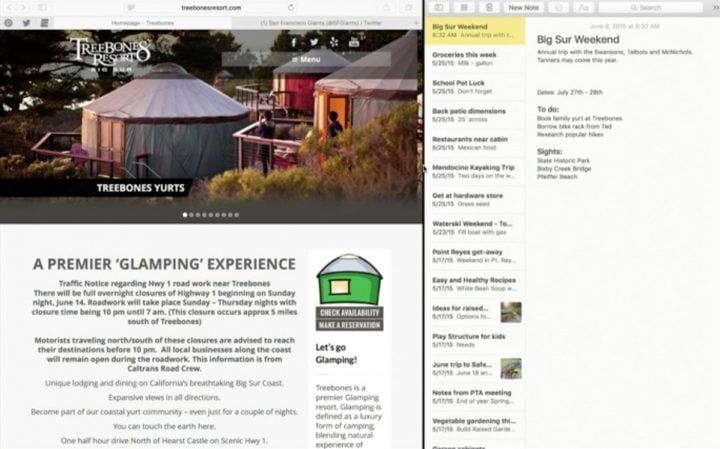 You can also use human-like language when doing a search, such as "mail I ignored from Phil" will bring up email from Phil that you have yet to read or respond to.
And of course, OS X El Capitan now includes a cool new feature that allows you to easily split windows and multi-task in a way. A user can click and hold on the green button in the top-left corner of a window to drag-and-drop the window,  automatically putting it in next to another open window. It's a lot like how Windows' Snap feature works.
In the end, OS X El Capitan isn't a huge update over Yosemite, but the new features should make it a welcomed update for Mac users.