OS X Lion and Mountain Lion Still Available to Purchase
OS X Mavericks might have officially released earlier this week, but Apple is still selling earlier versions of OS X in the online Apple Store for $20 a piece. Since not all Macs support Mavericks, it seems the company is continuing to sell older versions for those who at least want to update their older Mac to the latest version that they can update to.
These two versions, Lion and Mountain Lion, are selling now for $20 each in the form of a redemption code that will allow you to install it on your Mac. These can also be good if you ever want to downgrade back to either of these versions if Mavericks isn't cutting it for you.
Apple has usually only offered one version of OS X at a time, but seeing as how there are some slight gaps in Mac compatibility with Mavericks, Apple decided to keep OS X Lion and Mountain Lion around, allowing users who have old Macs running Leopard or Snow Leopard to upgrade to newer versions of OS X in case they can't upgrade to Mavericks.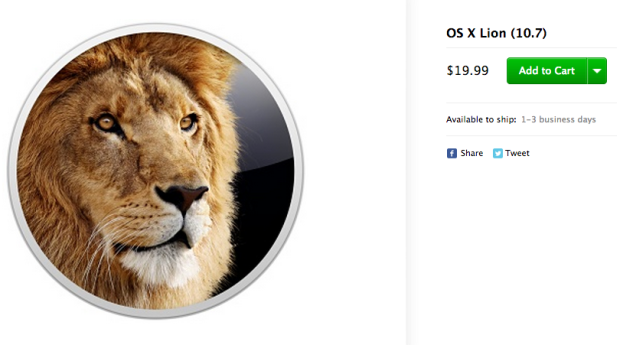 Lion and Mountain Lion are no longer available for download directly from the Mac App Store, so the listings are on Apple's online store instead. When you purchase one, you'll receive an email with a redemption code that can be redeemed within the Mac App Store.
If you already purchases Lion or Mountain Lion in the past, there's no need to purchase it again, as they'll show up in the "Purchases" tab of the Mac App Store. From there, you can download the installer and have your way with it.
Previously, users were still able to purchase a copy of Lion when Mountain Lion was available, but it required a phone call to Apple in order to get it. This method is a lot easier, and instead of just offering the previous version, Apple is now offering the previous version as well as the version before that, giving Mac users more options to choose from if they're not able to upgrade to Mavericks.