OS X Mavericks 10.9.3 Beta Delivers Improved 4K Support
Shortly after releasing OS X Mavericks 10.9.2 to the public, Apple has begun working on the next update that Mac users will eventually receive. OS X Mavericks 10.9.3 is available in beta form to developers, and it comes packing with improved support for 4K.
The feature enables most 4K displays to be set at a "Retina" resolution, with the option to pump it out at 60Hz. This was tested with a Late-2013 Retina MacBook Pro and the new Mac Pro using a Dell UltraSharp 24-inch Ultra HD Monitor and a 39-inch Seiki 4K display.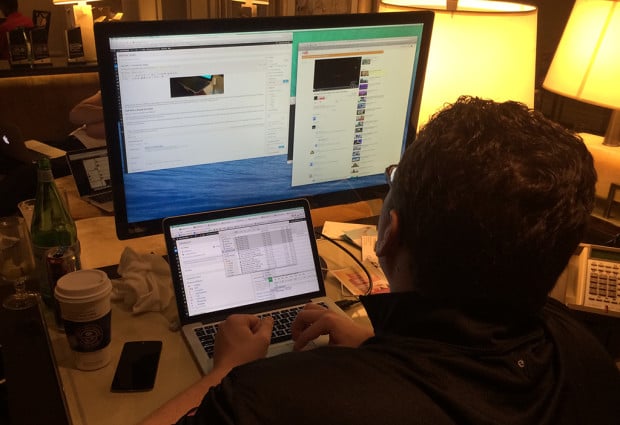 Before this update, Mac users were simply able to run off of a 4K display at native resolution, meaning that windows would be spread out and there would be a ton of screen real estate, but text would be really small and hard to read (Like the image featured above). However, this update doubles the pixels and makes the text larger, but still keeps the same sharpness and crispness that we all know and love from Apple Retina displays.
Read: What Is 4K and How Does It Affect You?
This update could make way for an Apple-branded 4K Thunderbolt Display. Currently, Apple's display measures in at 27 inches with a resolution of 2560×1440, but it's possible that the Cupertino-based company could be close to launching a 4K model that will either stay the same 27 inches or could even increase to 30 inches for more screen real estate.
Apple's Thunderbolt display costs a pretty penny: just a dollar shy of $1,000, but similar and cheaper displays are available fro Monoprice and other Chinese importers for around $400-$500. However, 4K displays should be coming down in price within the next couple of years.
There's no word on when the final version of OS X Mavericks 10.9.3 will be released to the public, but considering that the first beta of OS X 10.9.2 was released in mid-December and launched to the public early last week, we can expect 10.9.3 to arrive at some point in late April or early May.

As an Amazon Associate I earn from qualifying purchases.