OS X Mavericks vs. Mountain Lion Multi Monitor Support (Video)
A new video comparing the multiple monitor support available in Mac OS X Mountain Lion to the upgrade that's coming to iMac and Macbook Air users in the forthcoming Mac OS X Mavericks update has hit the web.
Until now, Mac users had been stuck with a sort of half-step effort by Apple to bridge that gap between users who have multiple monitors connected to their computer and the full screen app capabilities that it released as part of Mountain Lion. As it stands right now, users who open full screen applications on Mountain Lion, can't then assign other applications to other monitors. Instead Mountain Lion blacks out the other monitors, forcing the user to focus on that one monitor that has the full screen application open.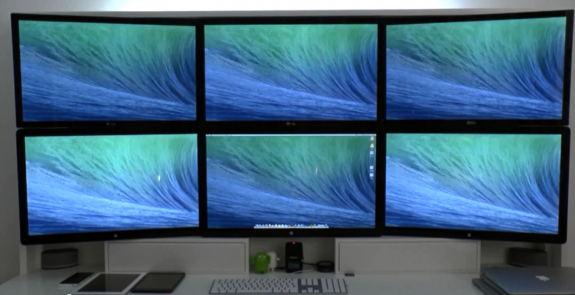 In OS X Mountain Lion users can move windows around between multiple monitors, but managing windows without the ability to snap them to an edge like in Windows 7 and Windows 8 or to make them full screen without losing other monitors impedes productivity.
Read: Apple Announces OS X Mavericks
Mountain Lion users can also switch in between spaces, and spread large wallpapers across multiple monitors, to create what amounted to a unified display for a user's favorite pictures and backgrounds.
Instead, users of OS X Maverick, going full screen on any application still leaves other monitors open for use. With the operating system users can spread as many full screen or minimized applications across their monitor setup as they want, though full screen applications will be limited to the amount of available monitors the user has. In lieu of changing the spaces of the entire desktop environment as OS X Mountain Lion did, OS X Mavericks allows users to switch between spaces on each monitor, giving the user more granular customization options for creating their own workflow.
Upgrading to Mavericks will also cost a user the ability to stretch a windows application between more than one monitor. Starting with the update, applications will only be able to stretch the width of the monitor that they're on.
The new operating system also introduces a slightly random way of ordering monitors. Because of that, users might become increasingly confused by which desktop corresponds to which monitor.
While MrThaiBox123, calls out the multiple monitor as being worse in OS X Mavericks, opinions will likely very based on the habits of each user. For example, some might prefer automatically not being able to stretch applications beyond windows, or like the idea of having multiple backgrounds on each monitor.
OS X Mavericks is scheduled to arrive as an update to many Mac OS X users sometime this fall, likely for around $20, the price previous upgrades have rung in at. In addition to multiple monitor support changes, the operating system will introduce features that were previously only available on the company's iPad and iPhone products like access to the Apple Maps service.

As an Amazon Associate I earn from qualifying purchases.