OS X Realtek Wireless Driver for MSI Wind Released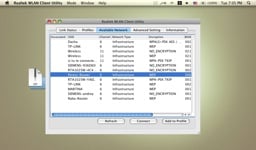 It appears that MSI Wind netbook owners who patiently waited for W-Fi support and took the risk of installing OS X on their machines may now have drivers for their factory installed Realtek Wi-Fi cards.  Although not posted on the official Realtek site, this thread at MSIWind.net tracks consumer emails to and from Realtek, the U100's Wi-Fi card manufactuerer.  The thread begins with posts showing replies from Realtek employees and their intent to release an OS X driver for the RTL8187SE in early, mid, and then later December.  Apparently, the driver was emailed directly from a Realtek employee to someone that inquired about its availability.  Regardless of how the RTL8187SE driver came to be, users are reporting success with the Realtek WLAN Client Utility.  The RTL8187SE doesn't show up as an airport card, but does provide full Wi-Fi functionality for OS X Wind users.
The success of "hackintosh" netbooks is one reason (among many) why Apple will probably never release their own netbook.  For a reasonable $349 USD or less, consumers can pick up an Acer Aspire One, Dell Mini9, or other popular netbook.  These devices aren't powerhouses, but do provide the option of running Apple's OS X operating system.  Although it may be illegal and certainly breaks your standard warranty, many netbook owners are researching and experimenting with the OSx86 project, a community that has found a way to make Apple's OS X operating system run easily on non-Apple computers.  A few simple searches through their Wiki or on Google reveal the proper setup and steps required to run your own non-Apple, OS X computer.  The release of Realtek Wi-Fi drivers makes the U100 compatible with OS X out of the box, requiring no hardware modifications.
It should be noted that GottaBeMobile does not encourage users break their factory warranties, EULAs, or take the risk of installing unsupported software on their machines.