OS X Yosemite Release Nears
The OS X Yosemite release date is closing in as Apple delivered a new OS X Yosemite GM to developers and the latest OS X Yosemite beta 4 to public beta users. Here's a look at what's new today and where you can find a OS X Yosemite download to try it early.
Apple's update lines up with rumors that we could see the public OS X Yosemite release date in October near a rumored iPad Air 2 event and alongside a Retina iMac.
Users are anxious to see OS X Yosemite on their Mac computer to take full advantage of the new iOS 8 features that sync calls and texts with the Mac as well as many other items.
Apple announced OS X Yosemite this summer at WWDC alongside iOS 8. The iOS 8 release arrived in September in time for the iPhone 6 and iPhone 6 Plus, which Apple patched with several fast iOS 8 updates. Users are still waiting for the OS X Yosemite release date to unlock all the new features.
OS X Yosemite Release Approaches
Today Apple seeded the OS X Yosemite GM to developers as an update in the App Store. If you are already part of the OS X Developer or iOS Developer program you can download this the same as any other OS X update.
Alongside the change there is an update to the public OS X Yosemite beta. This update bumps users up to OS X Yosemite beta 4. Users can update through the App Store as well.
Read: OS X Yosemite Release: 5 Things Users Need to Know
The move also coincides with the iOS 8.1 beta arriving yesterday. It's clear Apple is on a tight deadline to deliver a better iOS 8 experience on the iPhone and iPad and to line up the OS X Yosemite release date with new hardware and a potential event in late October.
https://www.youtube.com/watch?feature=player_embedded&v=NQ7kqwbqeiI
Apple is reportedly working with users to test the AirDrop feature ahead of release and the Daily Dot reports that Apple plans an event for October 21st where the company will announce a new iPad Air 2 and show off the final version of OS X Yosemite. If this event is planned it is likely where Apple will confirm an OS X Yosemite release date.
OS X Yosemite is a free update for Mac and it will work on many older devices, even some from as far back as mid-2007.
OS X Yosemite Downloads
If you want to try OS X Yosemite now you can still sign up for the public OS X Yosemite beta through the AppleSeed OS X Beta program. This is free to join and you don't need to be a developer.
Users can sign in with an Apple ID, agree to the terms and start the OS X Yosemite download directly from the Mac App Store. This is the best way for the average user to try OS X Yosemite early. Keep in mind even in these late stages this is not something you should put on your main computer.
Another option is to look for an OS X Yosemite Download from a site like IMZDL, where you will likely find an OS X Yosemite GM download at some point in the near future.
5 Exciting OS X Yosemite Features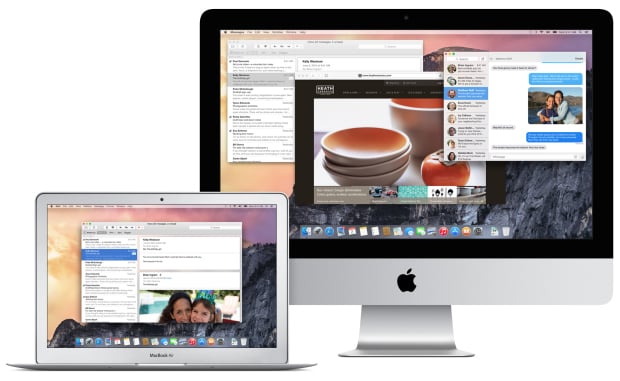 In addition to delivering a new look, OS X Yosemite opens up better connectivity between the iPhone, iPad and your Mac. Here are some of those features.
AirDrop – Easily share files and more between your iPhone and your Mac.
Continuity – Quickly resume what you are working on when you switch from your iPhone to your Mac, including access to the app and the document or email you were working on.
Texts and Calls – With iOS 8 and OS X Yosemite you can answer a call using your Mac as a speakerphone and also see and respond to texts from Messages.
 iCloud Drive – With iCloud Drive it's now easier to keep files of all kinds in sync between your iPhone and Mac.
Instant Hotspot – The iPhone shows up in the WiFi selection area with battery life and signal and you can turn on the Instant Hotspot without grabbing your phone once you set it up the first time.
We should see an OS X Yosemite release date arrive before the end of October and there are many other exciting features.