Oscar Host Uses Sponsored Samsung Phone Onstage, iPhone Off
Ah, life backstage can often be much more entertaining and interesting that life under the bright lights onstage. Take that from someone who has been living that life for three decades now. And Sunday night's Oscar telecast proved just that. We mentioned earlier that Samsung would have major advertising coverage on this year's Oscar with a "You need to see this" campaign. Turns out they had a sponsor role as well. It was hard to watch the show without  being inundated with something Samsung.
As a pre-planned part of the show, host Ellen DeGeneres snapped a selfie on stage with what looked like a Samsung Galaxy Note 3.
That moment kinda goofed as the live selfie turned out to be blurry.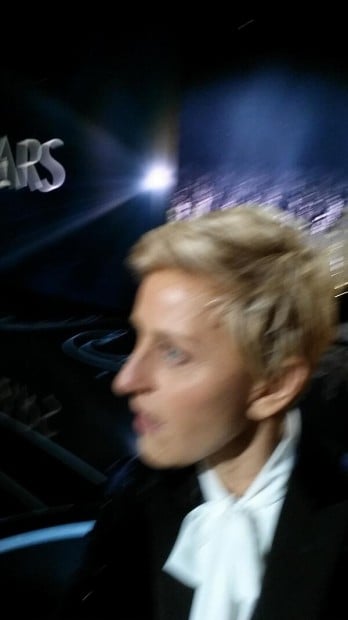 That prompted those live tweeting the Oscars to say that Samsung would now have to spend a ton of cash to say its smartphone cameras did not take blurry pictures. But Ms. DeGeneres also was tweeting a bit when she was offstage and some of those tweets included selfies as well including the picture below that apparently set a record for the number of retweets and crashed Twitter for a short time.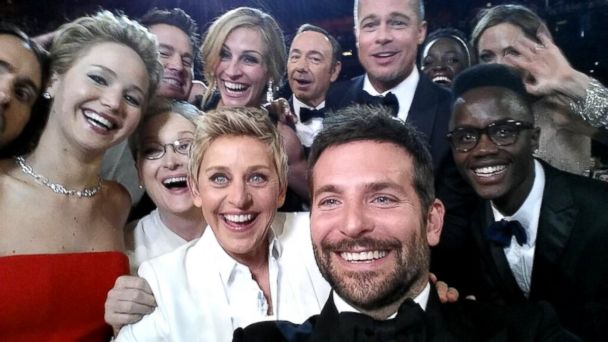 Only problem is, according to Marketing Land, some of the backstage tweeting and selfieing (is that a word?) was happening on an iPhone and not a sponsored Samsung phone. I don't think Samsung had that in mind when they said "you need to see this."
As Marketing Land points out some of those photos may have been taken by an assistant with permission to post to Ms. Degeneres account, but where a tweet comes from is pretty easy to check these days.
Congrats to all of the Oscar winners this year. And keep the folks who arranged the Samsung sponsorship in your thoughts as they have to deal with the aftermath of not checking to make sure the host (or at least the host's Twitter account) was only using a sponsored phone for the evening.
Too bad Google didn't sponsor the show and give Ms. DeGeneres a pair of Google Glass. There's always next year.