Osito Brings Best Google Now Features To iPhone
Osito, a new personal assistant app for iPhone wants to bring some Google Now functionality to iOS users, but only the most important parts.
The new app uses a card layout like Google Now, but unlike Google Now there is no way to search in the app to create new cards. Instead, Osito will access the user's calendar, location and Gmail to glean information to put in those cards. The app can help users know when it's about to rain, track flights, get to work or appointments on time or find directions to locations like hotels when they land in a new city.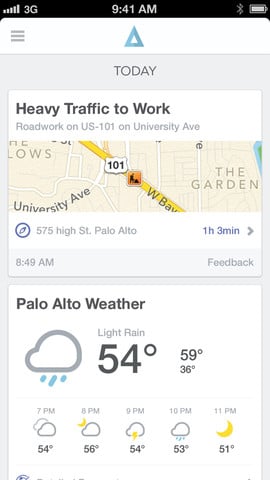 Osito's approach is to only ping users when the app has important information they might need. Users who rely on public transportation to get to and from work every day won't get traffic updates, for information.
Osito will use the user's Gmail to find out when they have flights, and create a card for their upcoming flight. It will use the calendar to remind users of meetings or tell them when to leave for said meetings.
When speaking to The Verge Osito CEO Bill Ferrell said in the future other apps can hook into Osito using the app's SDK. That way when the app detects the user is in a new city Foursquare can recommend restaurants or bars in the city, for example. A theoretical IFTTT integration can do things like automatically send messages to the user's spouse when they're running late from work.
Osito isn't exactly the Google Now iPhone users might want, but it does bring some of the best predictive elements of Google's service to iPhone users. It's not something users will have to open very often, in fact they can just stick it in a folder and forget about the app until it has something important to say. When it does have something to say, it will be important.

As an Amazon Associate I earn from qualifying purchases.