OtterBox Announces iPhone 5s Waterproof Case; Touch ID Supported
OtterBox has announced what looks to be the first proper waterproof case that we've seen for the iPhone 5s. They're calling it the Preserver, and it'll be just one option in the series that will also see similar waterproof cases for the iPhone 5c, iPhone 5 and the Samsung Galaxy S4.
This looks to be the first case that OtterBox has made that uses elements found in LifeProof cases in the past; OtterBox acquired LifeProof earlier this year, so this new case series is most likely a by-product from the acquisition. OtterBox claims that these new cases can be submerged in water as deep as 6.6 feet for up to 30 minutes, and they protect against drops from up to 6.6 feet.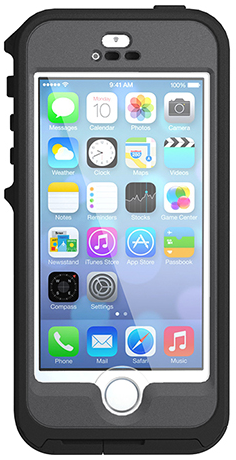 Technically, in the past, you could put an iPhone 5 waterproof case on the iPhone 5s, but the Touch ID fingerprint sensor wouldn't work, since the case would block access to it. However, this new Preserver case looks to open up access to the fingerprint sensor while still keeping it all sealed up in order to keep water out. It's not clear how OtterBox is achieving this, but from the photo, we can tell that there's a separate piece of plastic covering up the Home button. Perhaps this is a special lining that allows the fingerprint sensor to scan fingerprints through the plastic, even if they're wet.
The case is already available for the iPhone 5, but the iPhone 5s, iPhone 5c and Galaxy S4 versions will be launching soon. All four versions cost $89 each. It will also come in a variety of color combinations, including the gray/black pictured  to the right, as well as pink/gray, green/gray and white/gray.
OtterBox says that "about 70 percent of the Earth's surface is covered in water, and technology is almost as pervasive," so it makes sense to cover your device in something that's waterproof, especially if you like going to the beach often. We showed you a simple trick in the past where you could protect your iPhone 5s using just a ZipLoc bag, and the Touch ID fingerprint sensor still worked through the plastic lining. However, if you need something that's a bit more robust, OtterBox now has you covered.