Overwatch Beta Release Date & Details Arrive
Video game developer Blizzard is finally ready to reveal when gamers will be able to get their hands on Overwatch, its upcoming first-person shooter strictly for users that own a Mac or Windows PC. The Overwatch Beta release date is October 27th, according to a new blog post.
Blizzard announced the Overwatch Beta release date this week on its Battle.net Blog. Overwatch lets players customize a hero and team up with their friends to take on enemies. Some of these heroes specialize in dealing damage to enemies. Others are focused more on cooperative play.
Besides confirming that the Overwatch Beta release date is October 27th, this week's post clarifies a lot of the different details that users need to get going. Blizzard isn't forcing users to pre-order any of its games to gain access to the Overwatch Beta. That being said, the company is asking users to sign up for the beta on its website.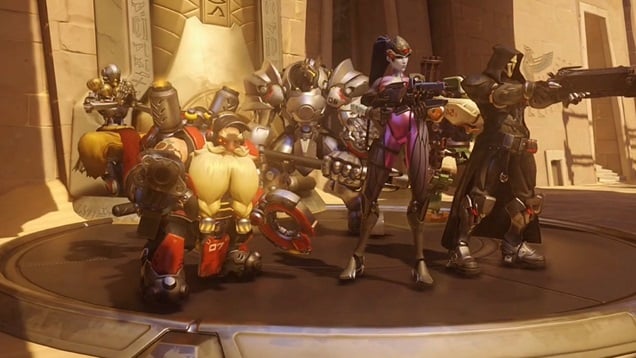 The mechanics of how the Overwatch Beta will work are slightly different from what some gamers are used to. The testing will consist of a Closed Beta and a Public Beta Weekends. Closed Beta users will get to test the game on weekends to provide feedback about the game's activities, maps and the abilities of each character type. It's this part of the Overwatch Beta that will kick off on October 27th. Though Blizzard wants as many people to apply as possible, it's being straight forward about the amount of users it'll let into the Closed Beta. "The total number of players in the Closed Beta will be extremely limited," this week's post reads. At launch, only gamers in the United States will get to participate. European and Asian users will get access later.
It's the Beta Test Weekends that offer the most promise for gamers looking to get their hands Overwatch early. Blizzard describes these weekends as larger in scale and scope than the Closed Beta testing. Essentially, it'll throw open the Overwatch beta doors to anyone and everyone with hardware capable of running it. Because it won't be testing game mechanics, these weekends will only include access to certain heroes, maps and gameplay modes. Beta Test Weekend participants will need to wait for the final version of the game to launch before they can experience everything the title has to offer.
There'll be "multiple different Beta Test Weekends" across the globe, according to Blizzard. The first one won't take place until after BlizzCon, the massive event that focuses on games made by Bilzzard. BlizzCon kicks off on November 6th and November 7th. There should be more news about Overwatch at the Conference, which takes place in Anaheim, California. Those interested in Overwatch and other Blizzard games can purchase a virtual ticket to the conference now for $39.99. Users who purchase a virtual ticket also pick up some extras for World of Warcraft, Heroes of the Storm, Hearthstone, StarCraft 2 and Diablo 3.
Regardless of whether users make it into the Closed Beta or Beta Test Weekends, they'll need to play the game on a PC running Microsoft's Windows operating system. Users will also need to have the Battle.net installed on their Windows PC, which makes sense given how integrated the app is to all of Blizzards titles. The Overwatch Beta won't be available on Macs at all. Successful Overwatch Beta applicants should get an email from Blizzard.
All told, it looks to be a very exciting beta for users who actually make it in. Overwatch was announced at last year's BlizzCon event and hasn't really been seen since then. A final Overwatch release date hasn't been set by Blizzard. We also don't know how much Overwatch will cost PC gamers when it does arrive on store shelves.

This article may contain affiliate links. Click here for more details.