Overwatch Release for PS4 & Xbox One Leaked
Without necessarily meaning to, video game retailer GameStop may have ruined a special surprise publisher and developer Blizzard Entertainment was saving for the start of its Blizzcon event. Employees for the United States' largest dedicated seller of games have leaked word an Overwatch release for Sony's PS4 and Microsoft's Xbox One consoles.
Gaming website Game Informer reports that GameStop — its parent company — is confirming unannounced versions of Overwatch for the Xbox One and PS4 are coming. Overwatch is a hotly anticipated first-person shooter from Blizzard. The studio is most known for World of Warcraft, Diablo 3 and Star Crafts. Historically, the developer has focused on making its games available to PC users instead of being cross-platform. Until today, we had no reason to believe that an Overwatch release for the Xbox One and PS4 was planned.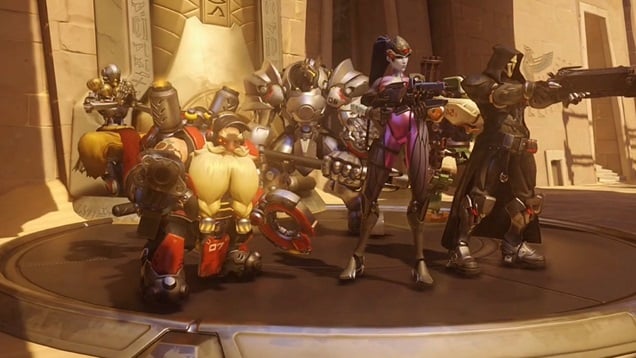 To be clear, the game isn't listed on the company's website yet, but Game Informer says that an employee inside GameStop received an email confirming that an Overwatch release for Xbox One and PS4 is on the way. Allegedly, the email confirmed that the game will cost $59.99 whenever it does arrive. When that release date will be remains a mystery though, the email only included a placeholder release date of December 31st 2016.
Read: World of Warcraft Developer Reveals Overwatch
For its part, Blizzard is only ready to confirm that it has plans to share more about the Overwatch release soon. "We are excited to share more information about Overwatch with everyone at BlizzCon this weekend — so be sure to tune in to the opening ceremonies," a statement sent to Game Informer says. Blizzard will kick off its briefing at Blizzcon early tomorrow afternoon at 2 p.m. Eastern Standard Time and 11 a.m. Pacific Standard time.
The last time that we received any news from Blizzard about Overwatch the studio was confirming the details surrounding the Overwatch Beta release.The studio kicked off that beta just last week. Unfortunately, it's not open to just everyone.
Overwatch is all about squad based combat. We only know of different types of combat so far: capture missions where the point is to dominate with territory, and Payload, which is an escort game type. Players choose one of three different characters and then form their team around each member's specialties. In that way, it's similar to every other team-based combat game. The game's maps are places in the real world. For example, the maps we know about are inspired by locals in Egypt, Japan and London.
Right now, there's no confirmed Overwatch release date for the Windows PC version of the game either, putting it on equal footing with these leaked Xbox One and PS4 versions. It doesn't appear as if there'll be Xbox 360 and PS3 versions of Overwatch. That makes sense. Most developers are getting away from providing versions of their games for these consoles.
The question now is if Blizzard will decide to link the different versions of the game together. For example, Microsoft lets developers connect up to Xbox Live so that Windows 10 gamers and Xbox One owners can play alongside each other. If these versions are connected, some could find that PC users have an unfair advantage due to the relative preciseness of a mouse compared to a controller. That's purely speculation though, almost all developers segment each version of their game's population. For example, in the past PC gamers are only to play with other PC gamers and so forth.
Overwatch isn't available for pre-order from anyone just yet. That could change tomorrow after Blizzard's announcement. Hopefully, we'll hear something about an Overwatch release date before the end of the company's presentation.

This article may contain affiliate links. Click here for more details.