Pad & Quill Aria Case for iPad mini Simply Beautiful
Few cases wow us, but the iPad & Quill Aria leather case for iPad mini is just jaw-dropping beautiful!
Pad & Quill makes book bindery style cases for tablets and the MacBook Air, and they're always very attractive and well made. However, upon opening this case, we couldn't believe how nice it looked and felt.
The Aria fits the iPad mini perfectly. The company includes a couple of inserts to give a better fit if needed. Just stick them to the corner of the wood inside the case before putting the iPad in and the insert will make for a more snug fit. We didn't need them for our case.
Pad & Quill uses Baltic birch wood finished with a satin gloss coat for a smooth feel. The Aria adds beautiful boot leather in two tones. They offer three combinations, coffee and onyx black, chestnut and onyx black and onyx black and chestnut. The first color describes the binding while the second color represents the main part of the cover. We reviewed the onyx black and chestnut.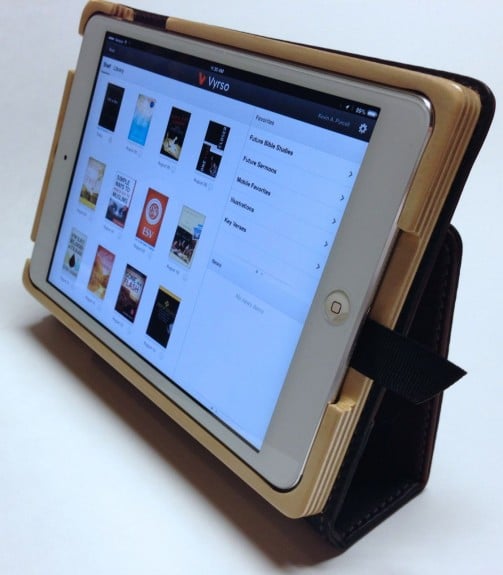 Of course the buttons and ports get full access. Pad & Quill include an elastic band to hold the Aria closed while the iPad mini's not in use. The cover also holds itself shut thanks to the magnets which also wake and sleep the iPad mini. A tab on the back holds the front cover's edge to offer angles to stand the iPad mini up for typing, watching video or viewing content like slide shows. Prop it at a lower angle for easier reading or typing on the screen.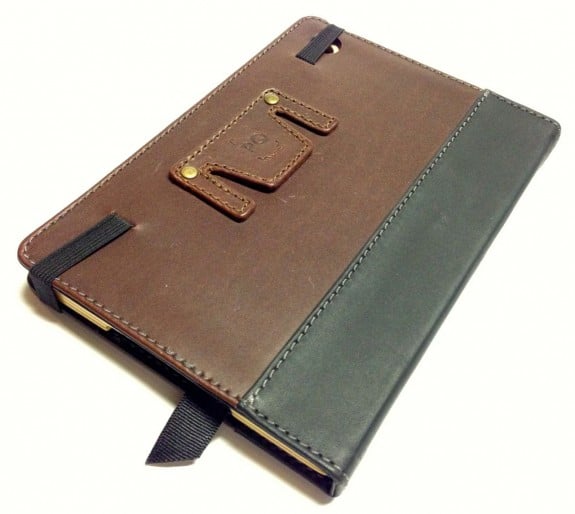 The case doesn't add much weight, but doubles the thickness of the iPad. With Aria, the iPad mini feels a lot bigger thanks to the wood frame that holds the tablet. The only drawbacks we found with the Aria include the size and price.
Pad & Quill makes removing the iPad mini from the case easy. A "bookmark" rests behind the iPad. Pull up on it and wedge a finger into the buttom edge and the iPad mini pops out.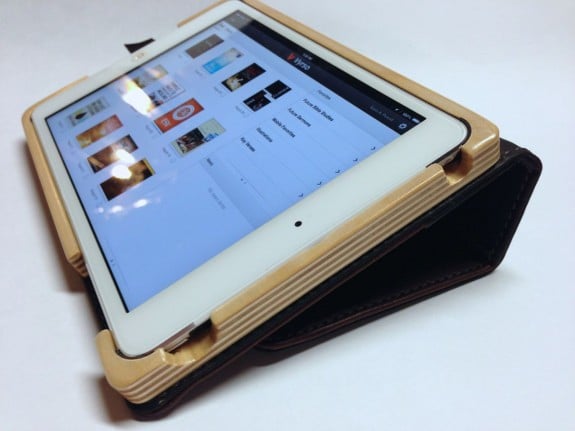 Users will pay for all this beauty. The Aria costs $99.99 direct from Pad & Quill. That's hard to pay for a tablet that costs only three times that price for the lowest cost iPad mini. However, it will likely last longer than the iPad mini and adds a level of sophistication and elegance to the device. The Aria gives the iPad mini a luxury feel and look!

This article may contain affiliate links. Click here for more details.