Padcaster Helps Users Shoot Better Video With Their iPads
At the Consumer Electronics Show, we saw an iPad mount called the Padcaster that will help users add video accessories and record better videos. The Padcaster has slots to add recording accessories, akin to higher-end consumer videocameras or professional videocameras, such as a hot shoe for video light, microphone holder, and an adapter mount for various different lenses.
The best thing about the Padcaster is that it will allow you to add better optics for your video recordings, including the use of higher quality lenses, optical zoom lenses, and wide angle lenses.
Though there have been lenses that have been adapter for the iPad and iPhone in the past, like the Olloclip lenses and other third-party solutions, the Padcaster have adapters so you can use some popular existing lenses such as those from DSLR cameras.
Some of the powered accessories may draw power from the iPad, but given that the iPad has a large battery, it should still last for a few hours even with powered accessories connected to it and recording videos at 1080p full HD resolution.
There's even a tripod mount at the bottom so users can mount a tripod or monopod to help stabilize their videos as the iPad doesn't have image stabilization built into it.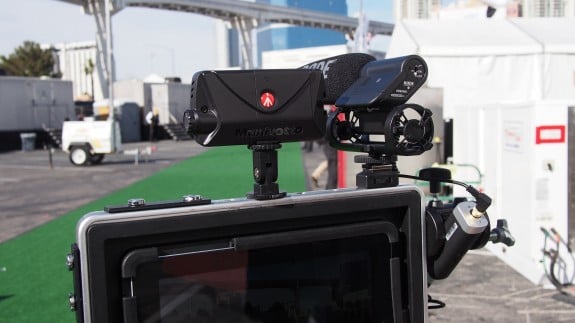 The solution makes it easy for users to record better video, but at a cost. The rig itself with the lens mount adapter costs $249.
The downside with using an iPad tablet, however, is that the screen isn't too viewable outdoors under direct sunlight. If you're recording indoors, it shouldn't be too much of a problem, but we got our demo of the Padcaster with the lens mount outdoors under the dessert sun in Las Vegas, and the screen was completely washed out despite cranking up the tablet's brightness.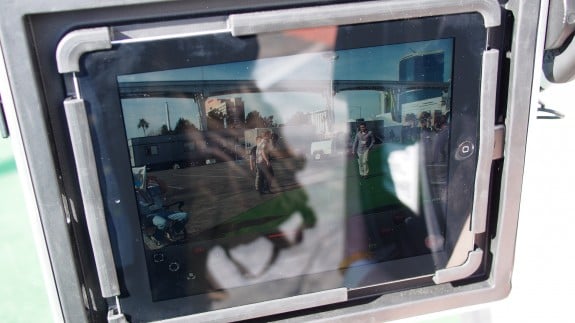 Similar solutions to Padcaster for the smaller iPhone display are the mCam as well as the Olloclip.

As an Amazon Associate I earn from qualifying purchases.