Pages, Numbers and Keynote for iPad Updated for Retina Display
Apple updated the iWork productivity apps for the iPad and iPhone to take advantage of the new Retina display of the new iPad. It also includes performance improvements and other new features for the individual apps.
Numbers now has what Apple calls "stunning new 3D bar, line, area and pie charts. The charts in Numbers look pretty nice already, but the 3D charts have better visuals. Previously they also added better iCloud integration so that documents on your iPad will also show up automatically on your other iOS devices and when Mountain Lion ships it will have iCloud sync for documents included too.
In Pages, you get the same performance enhancements, retina upgrade and better bar charts. You will also now be able to use the landscape keyboard on your iPhone or iPod Touch.
Finally, in Keynote you can animate your new high-quality charts. You will see new builds and transitions and the same improvements the other apps received.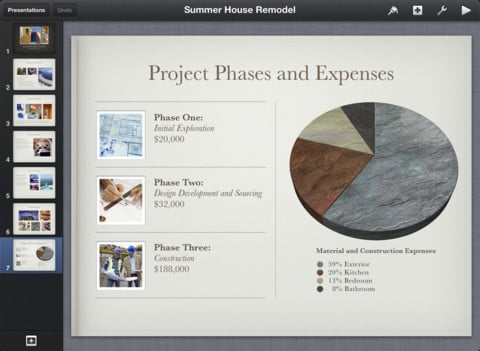 The updates will require iOS 5.1, which you can try to download now. Wait till the frenzy subsides on day one of the update March 7 before trying to download iOS 5.1.
Here's How to Upgrade to iOS 5.1 on your iPad or connected to your computer.