Palm Foleo Mobile Companion
I've heard all sorts of comments on Palm's new Foleo Mobile Companion ranging from "how cool is that" to "who needs another device." Now that the Foleo is coming out from under wraps no matter how you feel about it on an initial impression it, you have to at least acknowledge that it is an interesting development.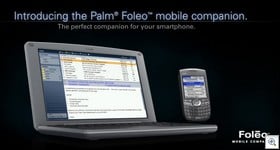 The Foleo Mobile Companion may look like a notebook, but it is bascially a display that connects via your smartphone and allows you to work with a 10 inch screen and a full size keyboard. It runs on a linux based os and does have some connectivity via WiFi. It supposedly has instant on technology and a five hour battery life. It will be priced at $499 (after a $100 rebate.) I'm guessing the target market is Treo users who want a little desktop action with their devices and from early reports this seems like it will do the trick. Still early in the game here, but one question that springs to mind is this: If I browse my favorites on my handheld using mobile versions of respective websites that make them easier to view on the small screen, what do I get if I browse them on the larger screen?
Here's a link to the press release on the device.

As an Amazon Associate I earn from qualifying purchases.