Not much news has come out of the Palm/HP camp since HP bought Palm, but today, a whopper of a leak popped up on a French carrier's website. The Palm Pre 2 is on it's way thanks to SFR and the some great detective work by PreCentral.  This would be much bigger news had the blogospere not been clogged up with a ton of Windows Phone 7 info yesterday.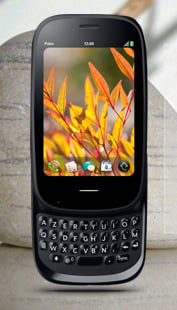 So, here's the info that has been uncovered thus far:
1GHz processor
512MB RAM
Same design as the current Pre series, but with a "flatter screen" (we're supposing glass) and "more refined design."
If you look closely that finicky USB door has been removed and replaced with a simple, exposed MicroUSB port. Looking more closely the finish on the edge is matted – so it looks like that crack-prone plastic we've been dealing with is a thing of the past.
PreCentral member thomas92 notes via email that SFR also says that webOS 2.0 will bring a faster boot time.
Same design? Boo! I loved the Pre's design when it was 1st launched, but my opinion of  it's unique sliding style quickly faded. I don't hate it, but I don't like it either.
Source: PreCentral

As an Amazon Associate I earn from qualifying purchases.