Palm Pre Touchstone makes a great car mount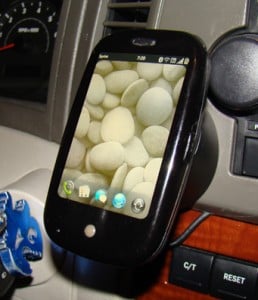 Personally, I don't think the current state of wireless chargers are really worthwhile. Placing your device on another device seems no more convenient to me than plugging it in to another device, or at least not worth the extra cost. However, this hack turning a Palm Pre Touchstone charger into a magnetic car mount has me reconsidering that view.
See, the problem with car mounts is that they're usually cumbersome, ugly, hard to plug in, and/or require wires hanging from places if you want to charge the device. I've looked at a number of car mounting solutions for my iPhone, and even sketched a few ideas of my own, but nothing seemed to solve all four problems. But using the wireless charging and magnetic grip of a Touchstone charger, remington870_20ga at everythingpre has solved them all for mounting his Palm Pre.
Sure, the big knob on the dashboard is hardly attractive, but I don't think it's ugly either. The one visible wire is tucked away. And the Pre practically mounts itself to the magnetic Touchstone. This is one of the best, if not the best, car mounted charging system I've ever seen. I may have to give my car mounting plans another look and toss wireless charging solutions in the mix.
Via jkOnTheRun