Palm Secure: A New Hands On Approach To Security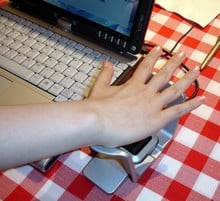 This certainly looks like an intriguing new solution to biometric security issues on PCs. The Palm Secure goes beyond finger-print readers and scans the pattern of veins running through a user's palm, as well the blood flowing through the user's veins. Manufactured by Fujitsu, the Palm Secure is due out next month and it is being demoed in NYC at the Corporate and Channel Computing Expo. Barry Doyle of TabletPCReviewSpot.com got a hands on look at the device which is where we picked up the news and the pics. Fujitsu is boasting accuracy rates of false rejections of 0.01% and false acceptance rate of 0.00008%. I'm betting as this takes off we'll be doing hand-jives in a number of places.
More on the Fujitsu Palm Vein Technology.

As an Amazon Associate I earn from qualifying purchases.