Panasonic Bets on NFC, Rather than Smart OS, on Latest Lumix GF6 Camera
Panasonic had unveiled its latest micro four thirds Lumix GF6 camera with WiFi and NFC, the latter wireless sharing standard is still a rarity on camera systems. The inclusion of NFC is both nice and surprising. Instead of choosing to go with a smart mobile operating system, like the adoption of Google's Android OS that taken by rivals Samsung, Polaroid, and Nikon recently, Pansonic chose to go with the NFC route to allow sharing of captured images via a compatible smartphone.
With the Lumix GH6 camera, users can share their images to a compatible NFC-equipped smartphone and then from the phone, upload and share the images to their favorite online cloud storage service or to social media networks. NFC is used on the GH6, from early previews we've read, to allow users to quickly create a direct WiFi connection between the smartphone and the camera for sharing.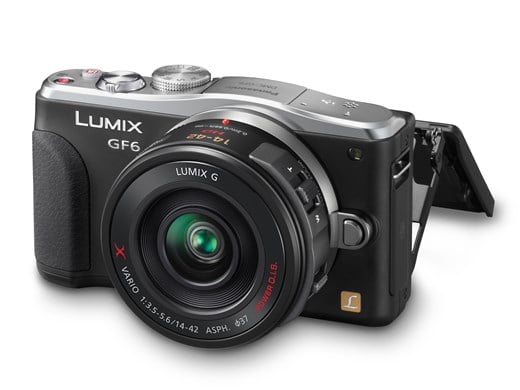 This move isn't only smart as it allows Panasonic to just fine tune the menus on its current camera lineup, rather than investing in adopting Android and creating camera controls for the Android-powered smart camera. Additionally, it allows Panasonic to work within familiar constraints and parameters of its current camera UI and OS and not have to learn about the limitations of working and developing a camera with Android at the core, especially for a complex interchangeable lens (ILC) camera system where there are always firmware updates for the camera body and separate updates for the lens.
Additionally, taken from the more rugged and professional Lumix GH3 camera system, Panasonic also added WiFi to the more compact Lumix GF6 system. The WiFi module allows users to compose and capture images using the smartphone display, and also allows images to quickly be transferred to the phone or tablet, similar to how an EyeFi or FlashAir cards work.
As camera-makers are debating adoption of a smart operating system for their cameras to give users the value of photo editing tools, social media and email apps, and up-to-date firmware that a modern consumer operating system affords, Panasonic's route may be the most practical as it allows many of these functionality through the use of a smartphone and the NFC chips.
The mirrorless GH6 camera has a 15-megapixel micro four third sensor that works with compatible lenses made by Panasonic or Olympus. As the camera doesn't have body stabilization, Panasonic users are advised to choose Panasonic lenses, which have optical image stabilization, should they require the feature; Olympus adopts in-body image stabilization so Olympus lenses do not need to be stabilized through optical image stabilization. The camera also has a 1040k tilting display on the rear and adds the mode dial to the top.