Panasonic May Take Over Where Boeing Connexion Failed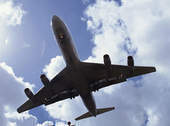 A while back we posted about the demise of Boeing's Connexion service that offered WiFi in the friendly skies. It looks like Panasonic might be getting ready to run with that ball, although they are taking a cautious approach and trying to build up enough of a client base before launching.
"We have a complete system designed, developed and ready to go," strategic marketing director David Bruner told Inflight Online at the WAEA show in Miami Beach last week. "But we're determined to avoid one of the things that brought Connexion down – lack of an initial fleet big enough to assure acceptable pricing for the airlines."
Panasonic has set about securing agreements covering a minimum of 500 aircraft in the next 60 days. That schedule is being driven by the need to be ready to serve ex-Connexion airlines within a tolerable time after the discontinuation of that service by the end of the year. "We can't drag our launch decision on until, say, February," Bruner said. "There will inevitably be a dark period between the end of Connexion and the start of our service, and we want to keep that as short as possible. We already have 150 aircraft committed and feel confident we'll make the 500. But if we're falling badly short in 60 days' time we will not go."
With three airlines already restricting Dell and Apple laptops due to Sony battery issues, I wonder if that will have any effect on Panasonic's decisons.

As an Amazon Associate I earn from qualifying purchases.