Panasonic Toughbook 19 gets tougher, faster, still can't fly
Panasonic announced an update for their Toughbook 19 (which sports a 10″ screen, not 19″). It now features an Intel Core i5-540UM processor with Turbo Boost for speeds up to 2.0GHz and vPro for motherboard-level security. It also tops MIL-STD-810G certification with the ability to withstand a six-foot drop (probably still won't pass helicopter test).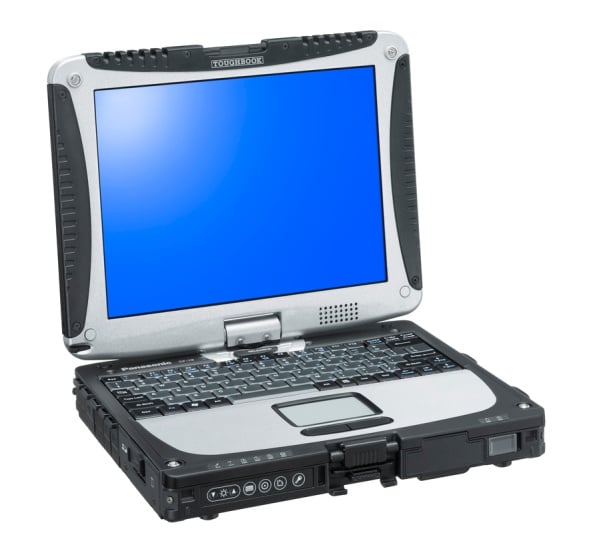 PANASONIC UPGRADES RUGGED TOUGHBOOK® 19 CONVERTIBLE TABLET PC TO INCLUDE HIGH PERFORMANCE INTEL® CORE™ i5-540UM PROCESSOR
Gobi2000™ and WiMAX-Ready Device Offers 3G and 4G Wireless Broadband Connectivity
Secaucus, NJ, May 24, 2010 – Panasonic Solutions Company, manufacturer of durable, reliable Panasonic Toughbook® mobile computers, today introduced upgrades to its Panasonic Toughbook 19 rugged convertible tablet PC. The updated Toughbook 19 now features the Intel® Core™ i5-540UM processor with Intel® Turbo Boost Technology with speeds up to 2.0GHz, Intel® Hyper-Threading Technology and Intel® Virtualization Technology. In addition, this mobile computer runs Windows® 7 Professional, with a faster and more secure remote connection capability and a Windows XP downgrade option.
Optional Gobi2000™ mobile broadband is another key feature of the Toughbook 19. Qualcomm's Gobi2000 technology includes integrated GPS, increased data-transfer rates and more global connectivity options. The upgraded convertible tablet also comes with an option of integrating WiMAX, providing field workers with high-bandwidth 4G wireless broadband access, where available. This powerful technology enables mobile workforces to take greater advantage of high-bandwidth technologies, including video streaming.
Going beyond the MIL-STD-810G certification with the ability to withstand a six-foot drop, and with a shock-mounted hard drive, magnesium alloy case and UL1604 Class I Division 2 certification, this mobile computer is optimized to operate in hazardous and mission-critical environments. The IP65 certification provides improved water and dust resistance, enabling field workers to maintain their productivity in challenging scenarios, such as sand storms and heavy rain. The display, featuring Panasonic's CircuLumin™ Technology, enables users to adjust their screen brightness according to the environment they are in – from very dark places (2 nits) to direct sunlight (up to 1,000 nits).
"The rugged Toughbook 19 convertible tablet is a proven solution, validated by years of success in the field," said Kyp Walls, director of product management, Panasonic Solutions Company. "With the new Intel processor, our users will benefit from the combination of great performance, easy remote access and security without sacrificing battery life while on the move. In addition, offering optional Gobi2000 and WiMAX will improve the mobile connectivity experience for our customers."
Panasonic Toughbook 19: Select Features and Specifications
Genuine Windows ® 7 Professional (with XP downgrade option)
Intel® Core™ i5-540UM vProTM Processor

1.2GHz with Turbo Boost up to 2.0GHz
Intel Smart Cache 3MB
2GB SDRAM (DDR3), expandable to 8GB
5.1 lbs
10.4" LED backlit display
2-1,000 nit LCD brightness
Concealed Mode
Touchscreen display or optional dual touch display (Digitizer + Touchscreen)
160GB SATA (shock-mounted & quick release) hard drive

Optional 128GB solid state drive (SSD)
Fully-rugged

MIL-STD-810G (6 foot drop) and IP65 certified
Full magnesium alloy case
Spill-resistant
Shock-mounted flex-connect HDD with quick-release
Embedded Connectivity

Wi-Fi 802.11 a/b/g/n
Bluetooth® v2.1 + EDR (class 1)
Optional Gobi™ and WiMAX mobile broadband
Up to 9 hours of battery life
3-year limited warranty, parts and labor
Interfaces

Port replicator
External video (VGA)
Headphones/speaker
Microphone/line-in
Serial
USB 2.0 x 2
SD card (SDHC)
PC card
ExpressCard
10/100/1000 Ethernet
56K Data/Fax Modem
Dual antenna pass-throughs
FireWire
Optional integrated features

Camera*
GPS receiver
Backlit keyboard (emissive or rubber)
SmartCard reader
Fingerprint reader
HDD and battery lock
*Camera replaces the second memory slot located on the bottom of the PC
Pricing and Availability
The Panasonic Toughbook 19 is available immediately, starting at an estimated street price of $3,399, from authorized Panasonic resellers.
The Toughbook 19 includes a full three-year limited warranty, parts and labor, providing coverage wherever the unit may be deployed.
Toughbook 19 Images
https://www.flickr.com/photos/panasonictoughbook/sets/72157622004999462/
Follow the Toughbook Brand
The Panasonic Toughbook brand can be followed on various social media channels, including Facebook, Twitter, YouTube, Flickr and Toughbloggers.com.
For more information on Panasonic Toughbook mobile computers, go to www.toughbook.com.

This article may contain affiliate links. Click here for more details.