Panasonic Toughbook Commerical On The Sugar Bowl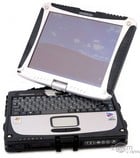 Sitting here in the wilds of Wisconsin watching the Sugar Bowl (my father-in-law is a big Notre Dame fan) I just caught a commerical for the Panasonic Toughbook Tablet PC. Good commerical showing off the ruggedized features, but not really the Tablet PC features. Anyone else catch it?
You can view it on the Panasonic site here.

This article may contain affiliate links. Click here for more details.