Panasonic Toughbook Tablet PC: A First Look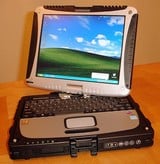 Barry Doyle of TabletPCReviewSpot.com has posted a first look at the Panasonic Toughbook CF-18 Tablet PC. As usual he's got specs and quite a few pictures. Check it out here. I'm curious. Do we have any readers using ruggedized Tablet PCs here at GBM? If so, leave a comment and tell us your experiences.

As an Amazon Associate I earn from qualifying purchases.