Panasonic's 20-Inch 4K Windows Slate: Smooth on the Eyes But Hard on the Wallet
About a year after Panasonic initially showed off the prototype of its 20-inch Windows tablet with a pixel-whopping 4K Ultra HD resolution, the company is finally ready to ship the slate. The Pansonic Toughpad 4K UT-MB5 will cost you $6,000 when it lands in the U.S. in January 2014, making the device the first 4K tablet on the market.
The slate is already announced for Europe for a November release.
Panasonic first showed off the tablet at the Consumer Electronics Show in January of this year, and since that time the outfit has made some changes and refinements to the slate for its commercial release. The device will now run Microsoft's latest Windows 8.1 Pro operating system and the whole rig is powered by an Intel Core i5 processor, NVDIA GeForce GPU, 8 GB RAM, and a 256 GB SSD for storage.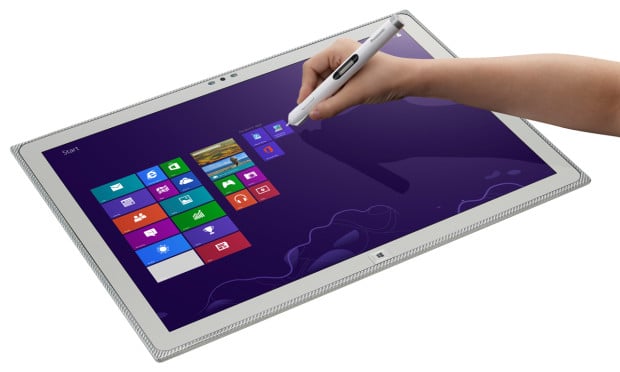 The crowning glory behind the Toughpad 4K is its 4K display, which packs in 3840 X 2560 pixels on 20 inches of screen real estate. The device has an IPS Alpha display that can support 10 points for multitouch and can support a digital pen as well for digital artists.
The Toughpad name also indicates that the tablet will be more rugged than other Windows 8 tablets from rival manufacturers.
Unlike other Windows tablets on the market–like the Surface from Microsoft and those from Lenovo, Dell, HP, Toshiba, and others–this one will likely be a more niche offering that will appeal to creative professionals and digital artists for the high resolution screen. Still, early adopting consumers may still benefit from the added resolution as well as video streaming services such as Netflix are beginning to test 4K video streaming, and the Toughpad 4K would definitely be able to take advantage of the higher resolution movie streams.