Parallels Access for iPad Review: Windows & Mac Tools as Apps on iPad
Parallels Access for iPad takes the concept of remote control of a Windows or Mac to a new level. The Parallels Access app will "applify" software running on a Mac or PC, making it work like an iPad app. Users can run Microsoft Word 2013 as if Microsoft released it for iPad.
People know the Parallels name, it's famous for letting people run Windows on a Mac. The company already offers an iPad app to access virtual machines running on Mac or PC. With Parallels Access, users can run their software as if the programs were designed to run on an iPad to begin with. LogMeIn, one of the most popular remote control apps available, along with the others in this category, should get nervous.
Here's the company's demo video of Parallels Access:
What makes Parallels Access worth a whopping $80/year? The iPad app connects to a Windows or Mac client letting the user run all the software on the computer or on a Parallels Desktop 8 virtual machine… as if they installed it on iPad. A grid of app icons, like iOS users see with iPad apps, show apps available to the iPad via Access.
Parallels Access will overlay gesture controls on top of computer programs.
One finger scrolling

Pinch to zoom
Two finger tap for right click
Triple tap to select text
Assistance in selecting tiny icons like the font color chooser in Word 2013
The app lets users copy and paste content from the computer to the iPad. Grab some text from a Word document and paste it into the iOS version of Pages. Grab a photo from a PowerPoint presentation and paste it next to the text in Pages.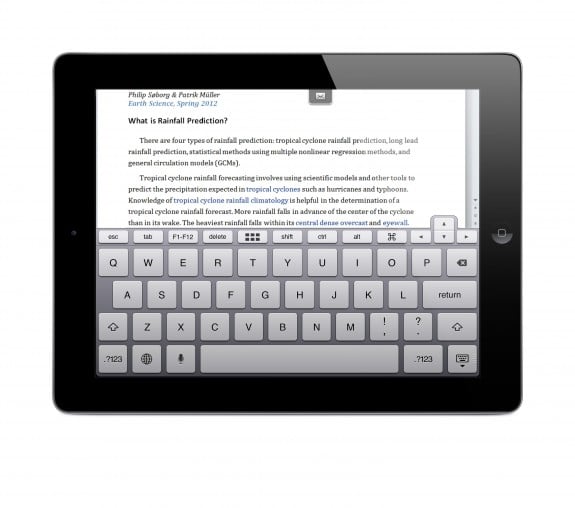 The app works amazing well, especially over a home or work network. It performs well through the Internet, also. Fine control of tiny icons or menus doesn't pose much of an obstacle thanks to the way Parallels Access interfaces with programs by dynamically choosing which button the person wanted to select on something like the Word ribbon.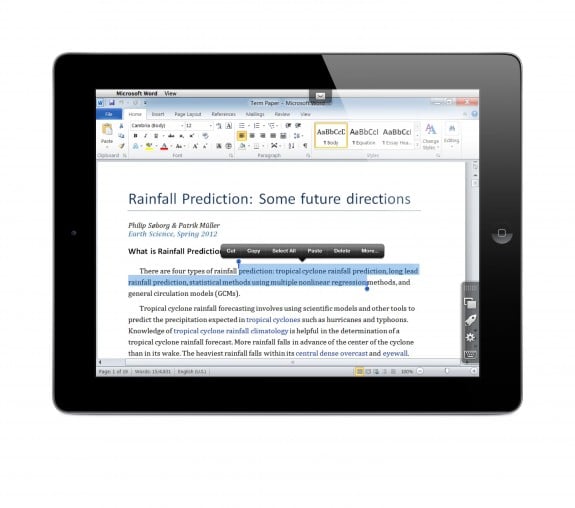 This is the interface that Microsoft should have created for Windows RT. It's elegant, easy to use or learn and works smoothly, even in the pre-release version we tested. It makes it tempting to set up a Windows box just to use with Parallels Access to run Windows programs on iPad.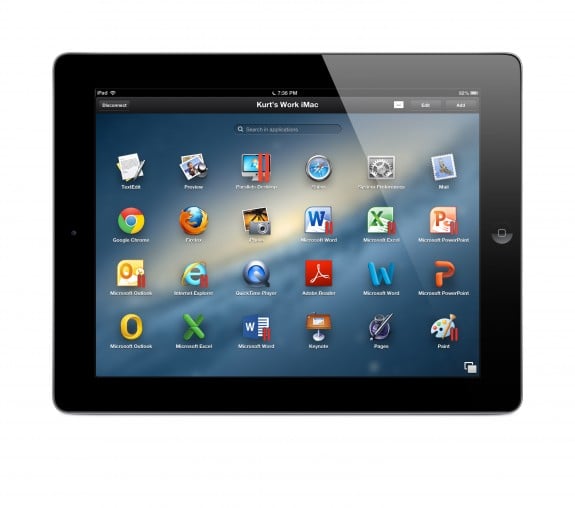 The software runs on OSX Lion, Mountain Lion, Mavericks, Windows 7, 8 or XP. Only iPad users can enjoy it for now. Sorry Android fans. The company may release an Android app, but not now.
The cost might stop some from using Parallels Access. $80/year seems steep. Fifty dollars a year seems more appropriate, but compared to LogMeIn Pro at $70/year, $80 isn't bad. Parallels Access works better than LogMeIn Pro or Free editions thanks to the "applification" of desktop/laptop software.