Parallels Mobile Updated With New Features and Retina Display Support
Parallels Mobile, the app that lets users control Parallels on their desktop, now supports the Retina Display on the new iPad along with a few other features.
Parallels explained the new feature in a blog post. Among the new features is the ability to view Flash websites through any web browser. The new app can also use every feature in Windows apps like Outlook and Quicken.
To use the app, users need to have Parallels Desktop running on a Mac. After connecting Parallels Desktop to the Parallels Mobile server, all of the user's virtual machines will be available from the iOS app. Logging into one of the virtual machines is as easy as just selecting it from a list.
Once logged in, Parallels Mobile will show the same screen as Parallels Desktop. The mobile app actually controls the desktop software, which means it isn't ideal for use on a shared machine. The mobile app will have access to every file on the desktop that the virtual machine can access.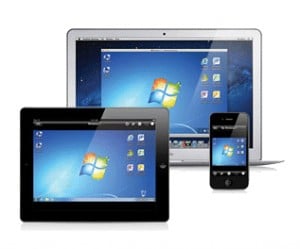 Parallels Mobile typically costs $19.99, but is on sale in the App Store for just $4.99. The Mac software costs $79.99.
The Parallels Mobile app is a great solution for users that want to run virtual machines on their iPad or iPhone, but it is expensive. For many users the free OnLive Desktop will be enough. OnLive offers a virtual Windows environment with the Microsoft Office Suite and Adobe Reader. It can also support Internet Explorer with Flash enabled for users willing to pay the $4.99 per month subscription.
Parallels offers a choice of any app the user can install, making it better for businesses that use Windows-only applications that employees need to access on Macs and iOS devices.