Part 1 | Motion Computing CL900 – The Hardware
We spend time with the Motion Computing CL900 slate. It has multi-touch, digital ink, and up to eight hours battery life in a small, light slate. Does it live up to it's potential as the perfect companion in the office, on the road, and sitting on the couch?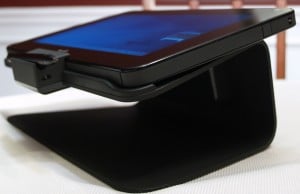 The CL-900 from Motion Computing makes many promises.  Powerful, long battery life, ink, multi-touch, rugged, and much more in a light-weight slate form factor.  What makes it different from the myriad slates and tablets out there in the wild?  What makes it potentially the ultimate device for work and leisure, from coffee table to the enterprise?  It runs Windows 7.  It has digital ink, the most underrated and overlooked missing feature from the iPads, Galaxy Tabs, and Xooms of today.  Is the CL-900 t the holy grail of feature set for folks who knew what tablet computing was before April of 2010?
Does it live up to its promise?  Motion sent one out to GottaBeMobile so we could put it through the rigors of a few days of my life; at home, in the office, and on the road.  Here's what I've found…
Specifications
The technical specifications for the CL900 read very well:
Intel® Atom™ Z670 running at 1.5 Ghz,
Intel® SM35 Express chipset,
N-trig DuoSense touch and pen digitizer (active pen running approximately 18 months on 1 AAA battery),
10.1″ LED backlit 1366×768 display with Corning® Gorilla® glass,
Intel® GMA600 video,
Dual cameras (3.0 mp rear facing, 1.3 mp front facing),
Up to 2GB 800MHz DDR2 RAM,
Either a 30GB or 62GB SATA 2.0 SSD drive,
Ports – 1 USB, 1 HDMI (micro-HDMI Type D), 1 SD Card, Dock Connector, Power Jack, SIM slot (optional),
Connectivity – WLAN, Bluetooth 3.0, Gobi w/GPS (optional),
Rugged with MIL-STD-810G four-foot drop spec.
All of this packed into a chassis that is 10.9″ x 7.06″ x 0.61″ (276.7 mm x 179.2 mm x 15.4 mm) weighing 2.1 lbs with a 43 WHr battery providing up to 8 hours of runtime with a 4:1 work/charge ratio allowing the CL900 to charge from zero to full in two hours.  It's an impressive pedigree for this new generation of Win7 slates from Motion Computing, making me eager to get the box open and see if the CL900 can live up to my expectations.  However, there are a couple of things missing from this list.
Fingerprint Reader
Often thought to be a throw-away feature on your average portable computing device, on a slate in the enterprise this is a significant convenience feature.  For example, within our global network we have a 10 minute lock-out policy.  Logging back into a device multiple times a day with a complex password is cumbersome with the on-screen keyboard.  A fingerprint reader removes this minor frustration.  This may not represent the feature gap that prevents enterprise wide adoption of the CL900, but it certainly could be a factor.
Motion Computing has shown plans for an integrated peripheral module to attach to the side of the CL900 that would provide such features as fingerprint reading, mag-stripe reading, etc.
Ethernet Port
It seems Wi-Fi is ubiquitous, at least in the United States.  But I find myself in a location where wired connectivity is the only option often enough that I carry a travel Wi-Fi router in my briefcase at all times.  Security issues and other environmental factors often restrict Wi-Fi availability, and outside of North America many hotels only offer wired connectivity in guest rooms.  An Ethernet port is a 'nice to have' feature, but there are enough simple solutions, (USB Ethernet, travel router, etc), to keep its lack from being a critical problem.
VGA / DVI
One of the great things about a slate is using it to give presentations.  Not only is it small and convenient, you can add a level of dynamic to a presentation or collaboration session by utilizing ink to diagram, mark-up, etc.  Walking into most board rooms and meeting rooms, you display options are VGA or DVI.  HDMI is slowly replacing these standards, but the penetration is very low today.  Networked projectors are at times available, but security and performance concerns still plague their segment of the large format display space.
I realize these exclusions come from the trade-offs required to produce a powerful, efficient, small form factor slate.  Hopefully through the design and use of creative accessories Motion can overcome the limitations of these missing features that are important to the enterprise.
The Slate
Aesthetically the CL900 is well designed and modern.  Glossy black with grey rubberized accents, it feels stable sitting on a desk and solid but not too heavy when held for a period of time.  Although it's about 50% heavier than an iPad 2 and a little under twice as thick, it grips well and feels comfortable to hold one-handed.  The ports are covered by rubberized strips to maintain water and dust resistance.  The cover over the power port is a bit stiff and you can't just grab the power cord and plug it in with a single hand.
Pen storage is a bit frustrating.  A latch button on the right side of the CL900 (in landscape orientation) opens a small door and the pen slides up and out.  Because the pen slides completely into the housing, it can be difficult to extract, and I worry about damaging the holster / door.
When the slate is lying flat on a surface it is nearly impossible to remove the pen without lifting the slate on an angle, unless you have the tether attached to the pen, making it simple to extract at any angle.  Replacing the pen into the holster is smooth in all cases, and the door closes easily and securely.
Easily, that is, unless you have the tether attached to the pen.  The pen storage housing closes and seals on all sides.  There is no notch for the tether to pass through.  The tether is very thin and strong, but it feels like you are forcing the door closed when it is attached.  Is the simple solution to just not use the tether?  Not quite…
On the J and LE series tablets the digital pen is a relatively thick barrel (just a bit smaller in diameter than your average dry-erase marker) a bit longer than your average ink pen, and is weighted asymmetrically so it doesn't roll easily.  Setting the J and LE series pen on a flat surface, it will wobble a bit but not roll away without a good push.  The pen on the CL900 is a smaller barrel (similar to a #2 pencil), short in length (about 3/4 the length of a new #2 pencil), and perfectly round.  If you set it on the face of the CL900 or on the desk next to it, then pen likes to roll away.  Because it is a powered pen, setting it on the display of the CL900 will keep the display active and on, unlike in the J and LE series tablets.
The Display
The screen on the CL900 is crisp and clear, with good color representation and contrast.  Head on the display is perfect.  However, from low viewing angles it shows some color inversion that you don't see on the J or LE series.
The photos from which these two images were cropped were taken in normal incandescent light with no flash.  On the left is a head-on view of the Motion logo on the desktop of the CL900.  On the right is the same image seconds later from a side view at about a 25º angle.
Ultimately this is a minor quibble, as at all normal viewing angles the display is excellent.  In bright, direct sunlight the display washes out a bit when in its default brightness (about 50%).  However, it is perfectly usable if you turn the brightness up.  With bright, direct light you can see the digitizer grid in the display, and the display shows quite a bit of glare.  As with the J and LE series, the CL900 would benefit greatly from flip out "feet" to raise the angle of the unit a few degrees when sitting on a flat surface.  This was a feature back on the HP TC 1×00 series, and significantly added to the usability of the device.
Then there's the bezel.  Before I had the unit in hand, the inch wide bezel irritated me in press photos.  With other slate devices and mobile electronics moving to tiny and nearly no display bezel, why is it that the CL900 has a moat of plastic around its otherwise handsome frame?  In practice it's not so bad, and in fact useful.  When inking margin to margin if there weren't some real estate for your hand to slide across it would be cumbersome and unnatural to write full width.  In fact, it's better that the bezel is an inch wide that if it were the few millimeters many devices have today.
The Dock
I use a slate a couple of hours every day.  I take a minimum of 5 – 10 pages of notes each business day.  Within OneNote on all my devices I have over 11 years of notes, the first page of which was written on a prototype HP TC 1000.  It is my goal to never write something on paper, but to capture it digitally.  This means I always need the "grab-and-go" approach.
A good docking station is key, as it keeps the device in the same place, charged up, and synced over high-speed wire all the time.
The CL900 dock confused me when I first took it from the box, but I think I now understand.  First the issue: The dock holds the CL900 at a fixed low angle.  It is not compatible with using the CL900 as a "desktop replacement," as the screen angle is wrong for that type of use.  But that's not the point, is it?  Motion set out to create the best mobile slate they could.  The dock is perfect for my "grab-and-go" needs; the slate slips into it easily and makes a solid connection to the docking port, giving it access to three USB ports, a wired Ethernet port, and power.  It lifts out of the doc
with the same ease, no need to look or fiddle with a release.
So why the 'strange' angle?  Turns out it's the perfect angle to write on, and a very natural angle to use touch.  A docked CL900 doesn't claim to replace my desktop.  Its goal is to sit within reach and let me take casual notes, flip through a web page, or scan email.  A front-and-center pen tray enhances this convenience.  Motion has created a design that improves interaction with the CL900.
My only wish is that the dock came with an additional pen, so when I do grab the CL900 and run off to a meeting, airport, or home for the day I didn't have to think about also grabbing the pen.  However, an additional pen is only $25.00.
Summary
This is a great piece of hardware.  Yes there are a few missing features, and a couple minor design flaws.  As stated above, many of these are attributable to the trade-offs required in the industrial design of a unit that is small, light, and has long battery life.  From a design and hardware perspective is this a device I will carry with me around the globe as my primary mobile computing tool?  In this context the answer is absolutely yes.
Am I going to, and do I recommend the CL900?  Design and hardware are only half the story.  The other half is usability; the questions of is it well implemented?  Does it provide an excellent user experience on top of the great hardware?  I've been using the Motion Computing CL-900 as my primary mobile device for nearly a week, and those questions will be answered in Part II, coming to GottaBeMobile.com in the next couple days.