Passbook Cannot Connect Error Frustrates iOS 6 Users
One of the newest features of Apple's newly released iOS 6 is called Passbook which turns the iPhone into a mobile wallet for items like tickets, loyalty cards, coupons, and gift cards. Problem is, many iPhone users can't get the feature to work.
Update: How to Fix Passbook Error in iOS 6.
Earlier today, I got iOS 6 up and running on my iPhone and excitedly, I opened up Passbook trying to poke around and give the new feature a whirl. Unfortunately, I, like many others who have written in, can't do anything beyond look at Passbook's introduction screen.
When I click on App Store, which rests below all of the features that Apple touts for the service, I am given an error where a prompt tells me that my phone can't access the App Store.
It looks like this: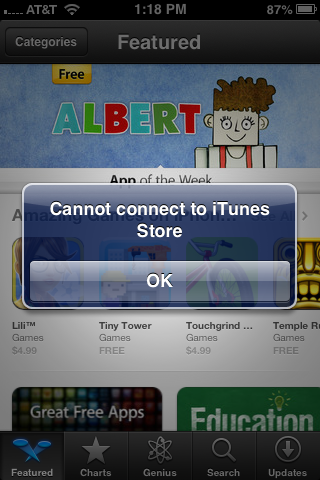 We have heard from many other users who are having the same issue and can't seem to access Passbook at the moment. Our editor Josh Smith, who is using the iOS 6 GM on his device, is able to access Passbook. However, it appears that many those who installed the consumer version of iOS 6 simply cannot.
Our own Shawn Ingram is able to get access to the App Store on his iPhone running the regular old iOS 6 but he claims that the application is extremely slow.
Read: How to Use PassBook in iOS 6.
At this point, we're not sure why some people are getting errors and it's unclear if there is a workaround. Thus far, I haven't managed to get beyond the error screen.
Passbook, while in its infancy, will likely take off once airlines, stores and amusement parks start adding passes to Passbook. Right now, there are only a few companies that have compatibility.
Those include:
Fandango
Live Nation
Lufthansa
MLB.com At Bat
Sephora to Go
Ticketmaster
Walgreens
Unfortunately, at the moment, many iPhone and iPod touch users can't use those apps with Passbook.