Most iPhones Won't Stream Patriots vs Broncos Playoff Game
Thanks to a maze of NFL broadcasting rights, most iPhone users will not be able to watch today's Denver Broncos vs. New England Patriots playoff game on the go. While Mac, PC and tablet users will be able to stream the playoff game through CBSsports.com, only some iPhone users will be able to stream the game. Even then they'll need to pay a fee.
While broadcasters are streaming more live events than ever on their Web sites and apps, complex NFL broadcasting rules make it all but impossible for most fans users to watch the AFC championship game on their iPhones. Verizon owns the rights to rebroadcast select re-broadcast NFL games to iPhone users. Verizon subscribers can stream the Broncos vs Patriots game if they pay a $5.99 per month NFL Mobile subscription. All iPhone users can  download the NFL Mobile app for free, but only Verizon owners can activate the app's streaming service.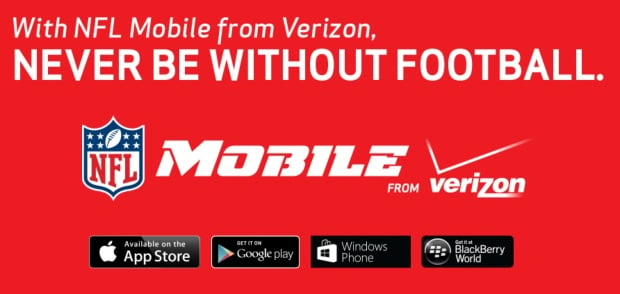 Verizon's NFL Mobile streaming service works with Android, BlackBerry and Windows Phone devices.   AT&T, Sprint and T-Mobile subscribers are out of luck whether they have an iPhone or any other device. The $5 per month subscription is a decent deal during the regular NFL season since it allows users to stream Sunday, Monday and Thursday night football games, it is a steep price to pay for a single game for new subscribers. While the service will stream today's Broncos vs Patriots game, it will not stream today's 49ers vs Seahawks game.
There's one significant alternative to NFL Mobile, but it's only available to those in select cities. Aereo is a television streaming service that streams local and cable channels to mobile phone users willing to pay a $8 monthly subscription. The service even acts as DVR and will record up to 20 hours of games and other shows for each subscriber.  Aereo is ideal for those who've cut the cable cord.
Of course there are still plenty of people that pay handsomely for cable and satellite services can rush out before the game and grab a Slingbox from Best Buy. The Slingbox 350 costs $180 and the Slingbox 500 costs $300.  iPhone users will also have to pony up $15 for the Slingplayer app if they want to stream football games on the go.  However, there's no additional fees for streaming games after the initial investment. Whatever you can watch at home you can watch on the go without worrying about regional blackouts or other limitations. 

As an Amazon Associate I earn from qualifying purchases.