Pay What You Want for Five New Android Games With Humble Bundle for Android 2
The Humble Bundle, a pay-what-you-want bundle of independent games, is back with five new Android games. The new bundle is only on sale for two weeks, and it offers a few games that haven't been available on Android before.
Even paying just one dollar for the bundle will get you four games: Canabalt, Zen Bound 2, Cogs, and Avadon. If you pay above the average price paid by others you also get Swords & Soldiers. Currently a payment of around $6 will get you all five games.
You can split your payment however you like between the developers, the EFF, Child's Play, and the Humble Bundle team. You can even choose which individual developer or charity gets your money. So if you really wanted to you can just split your payment between the EFF and the Canabalt team, or any combination you choose.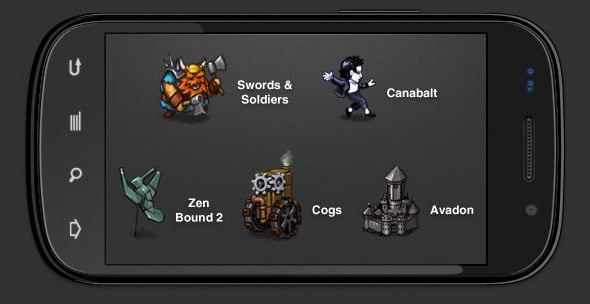 All of the games in the bundle are debuting on Android, though they have been available on other platforms in the past. They are all available in the iOS App Store, as well as Mac, PC, and even Linux.
The Humble Bundle doesn't get you the iOS versions, but it does give the desktop versions for each game. Canabalt, Swords & Soldiers, and Zen Bound 2 also come with their soundtracks.
There are a few things to keep in mind when buying the bundle. Most importantly is that the role-playing game Avadon will only run on Android tablets because it requires the extra screen space (the same is true on iOS, it is an iPad-only game).
The others are a few extra features of Canabalt. The Android version of Canabalt supports 3D for the few users who own a 3D Android device. The desktop version of the game supports multiplayer, a mode previously only available in the Winnitron arcade unit.