Pay Your Bar Tab? There May Be An App For That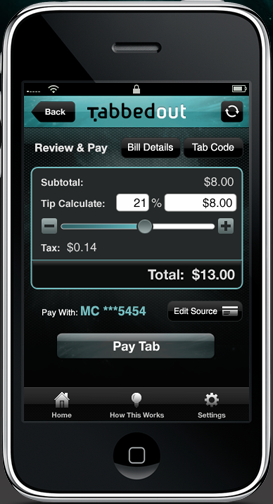 This weekend is the big South by Southwest (SXSW) gathering in Austin, Texas. It has become a major stop on the "let's roll out something new" geek tour. Twitter came to prominence there several years ago, and others want to try and repeat that experience.
One such app for the iPhone looks interesting. TabbedOut (iTunes link)  is an app that promises to get you out of the bar more quickly by allowing you to use your iPhone to pay your bar tab. No more waiting for harried wait staff to get back to you with your credit card or change. TabbedOut has been around (now at version 2.1.1) but is counting on a big splash this weekend at SXSW and it will be interesting to see how folks take or don't take to the experience. If folks do like it, how long will it take to roll out in other cities. At the moment, Austin is the only city where bars have signed up for the service.
Of course AT&T will have some say in this as well. SXSW has, in the past, been an AT&T FAIL story as legions of iPhone toting users descend for the conference/festival, only to find lousy coverage. AT&T has apparently gotten the message and is supposedly ramping up the bandwidth for the weekend. If that works as planned maybe the TabbedOut folks will have a decent shot at finding out how their app works.
How about you? Would an app like this work for your bar hopping habits?

This article may contain affiliate links. Click here for more details.