PC Fallout 4 Release: 5 Things to Have On Your Radar
As we push towards the PC Fallout 4 release date on November 10th, there are a few things that you should be on your radar.
In June, Bethesda confirmed the Fallout 4 release date for November 10th. On November 10th, Bethesda will release the highly anticipated game for Xbox One, for PS4, and for Windows PC. And naturally, PC gamers are excited.
Fallout 4, on paper, looks like it will be an excellent follow-up to the company's 2008 smash hit, Fallout 3. While Bethesda is still holding back many of the gameplay details, we know that the game looks a lot like the company's old game. On steroids.
It's a tempting pre-order for console owners and it's a tempting pre-order for those with powerful (and maybe not-so-powerful) PC rigs.
As we've moved away from the Fallout 4 launch date, we've seen Bethesda and other companies detail a number of new and important pieces to the Fallout 4 release puzzle.
While many of those details have been aimed at Xbox One and PS4 users, we've also seen a number of new PC Fallout 4 release date details emerge including several that we think require your immediate attention.
We've been taking a close look at the Fallout 4 release and today we roundup what we think represent the five most important PC Fallout 4 release details to have on your radar as we push deeper into the month of September.
Keep these in mind if you've already bought the game or if you're planning to put in a pre-order ahead of the game's release on Windows.
Fallout 4 Contests & Fallout 4 Loot Crate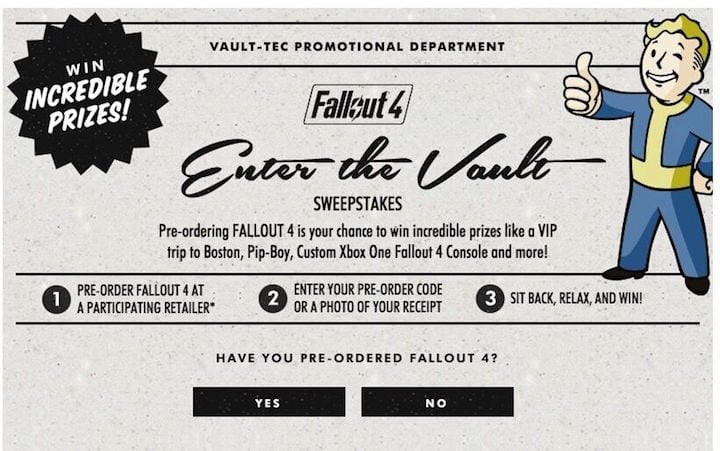 You should have Bethesda's two Fallout 4 contests on your brain ahead of the PC Fallout 4 release. Why? Because entry is free and you could win a number of excellent prizes including a Pip Boy or a Fallout 4 Pip Boy Edition for PC.
The company is hosting two contests. One is the Countdown to Fallout 4 contest that will see several people win Fallout 4 Pip Boy Editions in the month of October. If you've already entered, you'll want to keep your eyes peeled for the winners in a few weeks.
In addition to the sold out Fallout 4 Pip Boy Edition, Bethesda is also giving away some excellent collectibles including clothing and statues. If you want to pair your game with some extras, this is a contest you'll want to keep an eye on.
The other contest is the Enter the Vault Sweepstakes that started just a few short days ago. To enter, you'll either need to relay some information about your PC Fallout 4 pre-order or, if you haven't pre-ordered, send in a card with your information.
Bethesda is giving away an assortment of prizes including a free trip to Boston (the game's setting) and a Pip Boy that would go nicely with your copy of the game for Windows. Both of these contests should be on your radar.
You should also keep an eye open for the start of Fallout 4 Loot Crate pre-orders. The Loot Crate won't come with a copy of the game but it will come with some interesting collectibles.