PC, Xbox One & PS4 Games to Buy in April
February and March didn't appear as if they would be huge months for PC, Xbox One and PS4 games. Sure, there were some bonafide hits planned; Plants vs Zombies Garden Warfare and Far Cry Primal both come for blockbuster franchises. They were also more of the same, sequels to known quantities. Tom Clancy's The Division did force gamers to recalibrate their expectations, but that was it.
The PC, Xbox One and PS4 games line-up for April has some gems. In early April, Microsoft will become the first major player in the living room console space to drop an exclusive when Remedy's Quantum Break goes on sale. Third-party game developers will dominate the rest of the month, releasing sequels in well-respected franchises and downloadable content for last year's biggest role-playing game, Fallout 4.
Quantum Break – April 5th
Quantum Break is a game Xbox One fans have waited a very long time to get their hands on. Originally set to debut last fall, it appears that developer Remedy Entertainment needed more time with it. Microsoft delayed the game, promising to deliver it as its first exclusive launch for 2016.
The game stars Shawn Ashmore, and is a third-person shooter. Ashmore's character is granted the power to manipulate time in a freak accident. Players control him as he discovers exactly what's going on and exactly who he can trust. At different points in the story, players have the opportunity to make big decisions that impact their play through of the game.
Read: Quantum Break Release – What You Need to Know
Quantum Break is coming to Xbox One and Xbox on Windows on April 5th.
RBI Baseball 16 – April 5th
Coming to both Xbox One and PS4 on April 5th is the only major league baseball game on current generation consoles that isn't only available to PS4 owners. RBI Baseball 2016 takes gamers back to the field with some new tricks. Teased for this year's edition of the game are players from the real MLB roster and more "balanced" defensive gameplay. RBI Baseball will also include all 30 of the real-life MLB ballparks, complete with support for night and day games.
Dirt Rally – April 5th
Dirt Rally got its release last year on Windows PCs, but Xbox One and PS4 gamers have waited their turn to try out the racer ever since. On April 5th the game makes its way to living room consoles. Featuring both single player and multiplayer, Dirt Rally is an off-road racing simulation with Rallycross and vehicles dating back to the 1960s.
Dark Souls 3
The fourth major installment of the Souls franchise, Dark Souls 3 adds some new features and combat to the established action franchise. These include adaptive enemies that'll be harder to predict than enemies in the game ever were before. New battle abilities for players to mix in with their attack strategy, make an appearance too. Some say that it'll be the hardest in the franchise, by far.
The game, will reportedly be heavier on role-playing elements, like character building and skills, than previous versions. Dark Souls 3 arrives on store shelves April 12th for Xbox One, PS4 and Windows.
The Walking Dead Michonne Episode 3
Coming back for its third episode in April is The Walking Dead Michonne an episodic, narrative driven game from Telltale. Both Telltale and The Walking Dead franchise have huge followings. Michonne is about what happens to a singular character in The Walking Dead franchise after she decides to go it alone.
The Walking Dead Michonne is for Xbox One, PS4, PS4, Xbox 360, Xbox One and PCs running Windows. Episode 3 will be the game's final release, unless there's a second season in the works that we don't know about yet.
Ratchet & Clank – April 12th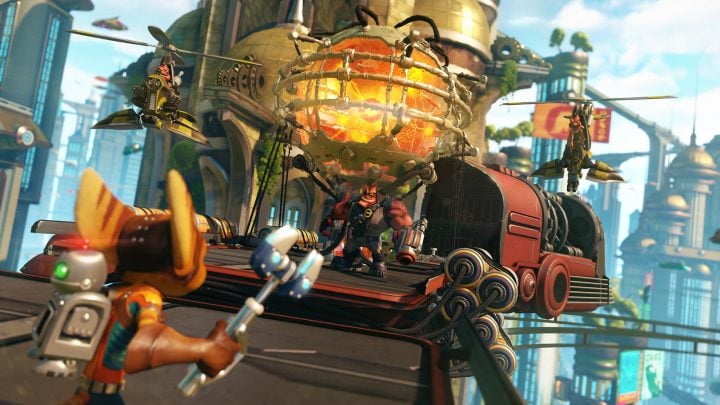 Ratchet & Clank is back this year for owners of Sony's PS4 video game console. Rather than start over, Ratchet & Clank 2016 is a re-thinking of what the first game could have been, made specifically for Sony's current generation console. Like the original game, this reboot uses elements of platforming and shooters.
Ratchet & Clank 2016 launches on April 12th in North America, April 15th in France, April 20th in the European Union and April 22nd in the United Kingdom. It'll be the first big-name, exclusive release for the PS4 this calendar year.
Fallout 4 Wasteland Workshop
Coming sometime during the month of April is Fallout 4 Wasteland Workshop a huge update to the enormously successful Fallout 4 role-playing game that launched late last year. Wasteland doesn't include any new areas to explore. Instead, it focuses on Fallout 4 users that want to use the game's tools to create and building things. "You can build your own arenas, capture animals and also build other things," Todd Howard told Game Informer in a recent article.
Read: Fallout 4 Wasteland Workshop Release – 5 Things to Know
Fallout 4 Wasteland is a part of the Fallout 4 Season Pass that developer Bethesda increased the price on early last month. It'll also be sold on its own for fans that don't want the $49.99 Season Pass, but do want more to do in the best-selling game.
Good luck with your April Xbox One, PC and PS4 games plans.