PCWorld's 100 Best Products of 2007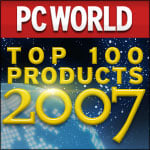 Last I checked my 2007 calendar still had just over six months to go and there are quite a few new gadgets scheduled to be released in those six months. No matter, PC World obviously operates on a different time frame in naming their 100 Best Products of 2007. They cast a wide net covering PCs, HDTVs, websites, services, software and more. But the UMPCs seemed to have slipped through that net. There is certainly no UMPC love in the list (wonder if that would change later in the year?) and the only Tablet PC you'll find is the Lenovo Thinkpad X60.
Of note though are a couple of applications we talk about a bit. The excellent graphics program Paint.net weighed in number 19. The New York Times Reader is listed at number 24. Intel's Core 2 Duo chip ranks at number 2.

As an Amazon Associate I earn from qualifying purchases.