Pebble Announces Pebble Time Round: Thinner but Shorter Battery Life
Pebble announced a new smartwatch on the heels of completing their Kickstarter fulfilment of the Pebble Time and Pebble Steel. On Wednesday, September 23, Pebble announced preorders of the Pebble Time Round smartwatch with a thinner design, quick charging technology but shorter battery life.
This new Pebble Time Round comes with a very wide bezel, wider than most smart watches available today. The screen is still the same always on e-paper display that works like e-ink display on devices such as the Kindle. It only draws power when the watch redraws the screen, like at a time change or when it receives a notification.
The Pebble Time Round measures 7.5mm thin and weighs only 28 grams. Compare that to the Pebble Time, which measures 10.5mm thick and weighs 62.3 grams with a leather band.
Pebble Time Round comes with two different band sizes, a wider 20mm strap and a narrower 14mm. The bands will come in five styles to match three different watch housing colors. They will ship five band and watch combinations, but buyers can mix and match by getting other bands so long as fit the watch's band attachment. Look for Pebble to offer other bands and possibly other watch/band combinations after initial launch. They have already promised metal bands.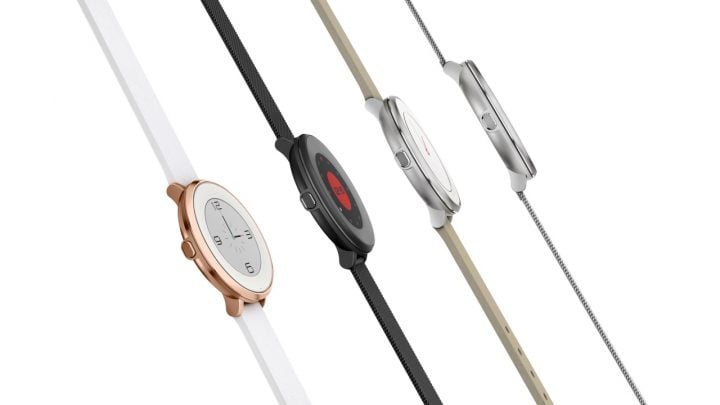 Here are the watch color options:
The bands come in five color/style options:
Stone leather
Nero Black leather
White leather
Nubuck Brown leather
Flame Red
Buyers can get the following size and color combinations at launch:
Silver with white bezel and Stone leather 14mm strap
Rose Gold with white bezel and White leather 14mm strap
Black watch/bezel and Flame Red 14mm strap
Black watch/bezel and 20mm Nero Black leather strap
Silver watch with white bezel and Nubuck Brown leather 20mm strap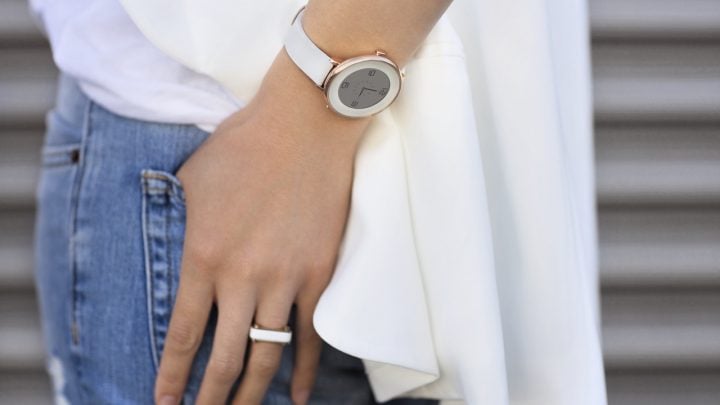 Buyers will get up to 2 days of battery life, thanks to the thinner design. The Pebble Time Steel lasts 4-6 days depending on usage. The Pebble Time Round also comes with a mic which allows the user to dictate text message responses.
Current Pebble apps should work on the watch in theory. The round face will make it more difficult for developers since they now must develop for two shapes, instead of just one square face. Otherwise, the apps and watch faces won't look right on the new round face.
Like older Pebble smart watches, the Round watch uses four buttons. The one on the left functions like a home/back button depending on what's on the screen. The three buttons on the right side work to move between the screens in Pebble's Timeline interface, which shows notifications in the order received. Go up in Timeline with the top button and down with the bottom button. The center button will select.
The charger snaps magnetically to the back and boosts the battery faster than older versions with a new quick charging technology older Pebble watches don't have. However, unlike older models, there's no 30mm water resistance in the new Pebble Time Round.
Pebble says this watch will appeal to people "who like their wearable tech a bit more incognito." They're going after a crowd that wants a smartwatch but hopes for something less conspicuous and more fashionable.
Pebble Time Round Availability and Price
Pebble said the Pebble Time Round will not ship till November. They historically missed almost every Kickstarter campaign deadline.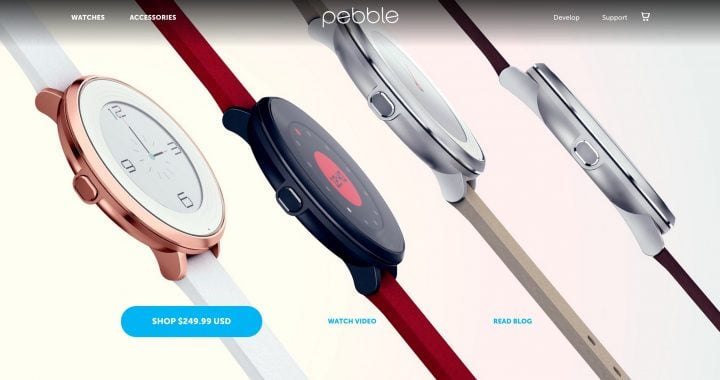 Pebble priced the Pebble Time Round at $249.99, the same price they're selling the Pebble Time Steel. That's $50 more than the plastic Pebble Time, a square watch. It's $100 more than the older Pebble Steel. People can get an orginal Pebble watch for $100.
Pebble Time Round Trial Program for Pebble Time Steel Owners
People who backed the Pebble Time Steel Kickstarter program can pre-order a Pebble Time Round for $50 off the $249.99 price. They can keep enjoying their Pebble Time Steel until the Pebble Time Round shows up in November. Then, if they use the new Pebble Time Round and like it better, they can return the Pebble Time Steel for a refund minus the $50 discount.