Pedometer++ Is the Newest App to Use iPhone 5s M7 Chip
A small handful of iOS apps are already taking advantage of the iPhone 5s's M7 motion coprocessor, including full-featured fitness apps. However, a new app has been released that mixes the complexity of the M7 chip with the simplicity of the app itself. Pedometer++ is a simple, single-page pedometer app, and it's the latest app to take advantage of the new processor.
It's probably one of the most simplest apps we've played around with; Pedometer++ consists of just one page and nothing else. It gives you the number of steps you've taken today, and it also gives you the number of steps that you took over the past seven days. There's also a toggle switch at the bottom that enables or disables the badge notification on the app icon on your home screen.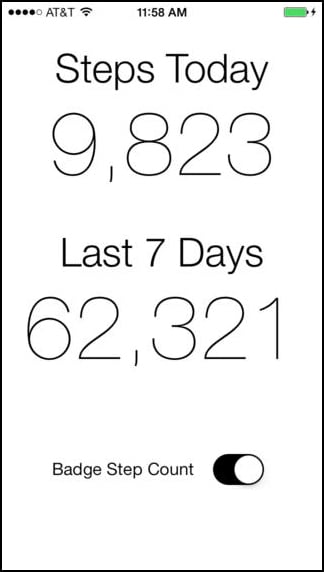 And that's it. There's no settings menu or anything. There's no way to reset your step count, which could be a bit of a bummer for some users, but we wouldn't see a reason to delete steps necessarily. The app is certainly one of the simplest and barebones apps we've come across recently. And while other fitness apps come with a pedometer, as well as other nifty features, Pedometer++ just includes the essentials for those who just want to know how many steps they're taking in a day.
The best part is, the app is completely free, and so far the reviews look positive overall, with 4.5/5 stars. A lot of users are complaining that the app isn't accurate, though, but it's not proven whether it's the app or the M7 processor that's delivering the inaccuracies. Frankly, we wouldn't be surprised by either one, as the M7 chip is still new and probably needs a bit of dialing in to make it more accurate.
Of course, we'll have to give it more time, as there are only a few fitness apps that support the M7 coprocessor, and none of them are overly popular; we're still waiting on the big apps to add support, like RunKeeper, MyFitnessPal, MapMyRun and even Zombies, Run!.
The M7 has a lot of potential, and while we've yet to see it, it could completely change how fitness apps work on smartphones, turning your phone into a complete fitness tracker rather than just a reporting tool and GPS tracker.

As an Amazon Associate I earn from qualifying purchases.