Pegatron MasterPad aims to be the mother of all Windows 7 slates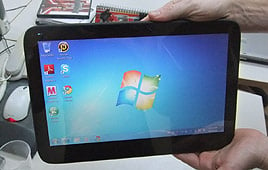 Hmm… I may have been hasty in questioning the vapor status of the ExoPC. While the availability of that particular device remains vague, its basic hardware appears to be that of Pegatron's MasterPad, a prototype from the OEM arm of ASUS.
The MasterPad hardware is nearly identical to what is reported on the ExoPC Slate, including 11.6″ 1366 x 768 display (except reported as offering IPS for wide-angle viewing), Intel Atom N450, 2GB memory, option of 32GB or 64GB SSD, two USB 2.0 ports, Mini-HDMI, 1.3 MP webcam, accelerometer, light sensor, 5-hour battery, and more. Seems clear Pegatron will be supplying the hardware for the ExoPC Slate and presumably other rebranded slates running Windows 7, not to mention the name indicates it's a "master" copy for the rebrands to follow. Once the MasterPad moves into production, expected in "the coming months", we'll likely see a whole lot of 11.6″ touchscreen slates from various parties pop up.
From Israeli site ynet.co.il via Engadget