Pen Ultimate Upgrade Makes Ink Note Taking Easier on iPad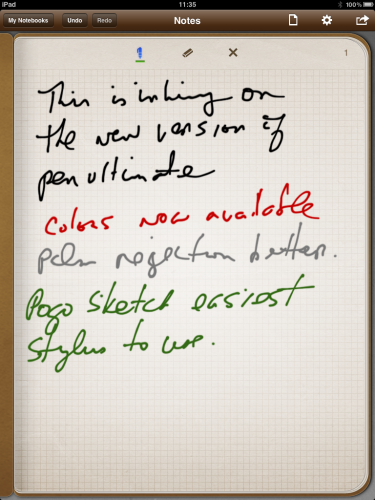 Cocoa Box Design, the developers of the iPad App, Pen Ultimate (iTunes link) have pushed out an update (v 1.2) that makes digital inking for note takers easier. I've written about Pen Ultimate before and Hector Gomez has provided us with a video of it in action.
Essentially, the folks at Cocoa Box Design have added a few wrinkles and improved the Palm Rejection as well as how a stylus works with the screen. As I said in an earlier post I found it sufficient for taking notes in a rehearsal, but the new version makes it easier to pour digital ink onto the screen and the better Palm Rejection means I have to focus less on making sure my hand and the stylus tip hit the screen at the same time. I also find that the Pogo Sketch stylus is easier to control on the new version than it was on the previous one.
New wrinkles include an option to move the Tools menu to the top of the screen instead of just the bottom and also the ability to add different colored ink.
Coming on the heels of the TenOneDesign news from yesterday, this shows that some developers see the wisdom of making digital inking with some degree of stylus control a reality on the iPad. Yeah, yeah, I know. But from my point of view, this is a no brainer.

As an Amazon Associate I earn from qualifying purchases.