PenCommander 1.5 for Tablet and UMPC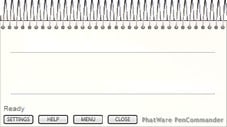 PhatWare just released an update to PenCommander – V 1.5. Updated for the Tablet PC, and the UMPC!! Here is a list of some of the new features:
Optimized for Ultra-Mobile PCs

Includes improved scripting engine with optimized performance and new user-level functions

Allows to assign PenCommands and keyboard shortcuts to single-stroke gestures.

Allows to change transparency of the Input Panel window

New Visual Studio 20005 like UI for Visual PenCommander
"PenCommander allows users to employ the pen to call up commands that can control Tablet PCs and UMPCs in almost limitless ways, such as editing documents, inserting often-repeated text into documents and launching applications. To execute a PenCommand, simply write a PenCommand name on the PenCommander input panel. PenCommander is the best tool for entering repetitive data, accessing frequently used applications and documents, inserting time, date and signature, and overall extending Tablet PC and UMPC functionality and user's productivity. It provides a simple and fast way to access functions that typically take longer to complete."
I like the idea of the new Visual PenCommander Integrated Development Environment (IDE) to create up your own customized commands – wonder what kinds of things we can come up with in there??
Check out the press release here

As an Amazon Associate I earn from qualifying purchases.