How to Perform a Clean Install of OS X Mavericks (Update)
OS X Mavericks is officially out and ready for the public. It's the latest OS X version from Apple and it comes with a heap of new features, including improved support for multiple displays, desktop versions of the Maps and iBooks apps, an improved Safari browser and much more. It's available now in the Mac App Store for free.
While most users will be fine with the easy upgrade process that OS X has, some users prefer to start from scratch with a clean OS install whenever they're upgrading to a new version. A fresh and clean install means your computer's hard drive is completely erased and OS X Mavericks is installed to factory settings. This means that no apps are installed and no files are stored — just the default apps and files that come with OS X Mavericks.
Personally, I always do a clean install. There are just too many problems that could happen when simply just upgrading, and I have so many files that they could get disorganized and cause unnecessary slowdowns on the upgrade. Essentially, when you do a simple upgrade, the new OS gets installed, and then the installer picks up all the old files and dumps it on top of the newly installed OS, which could easily cause problems.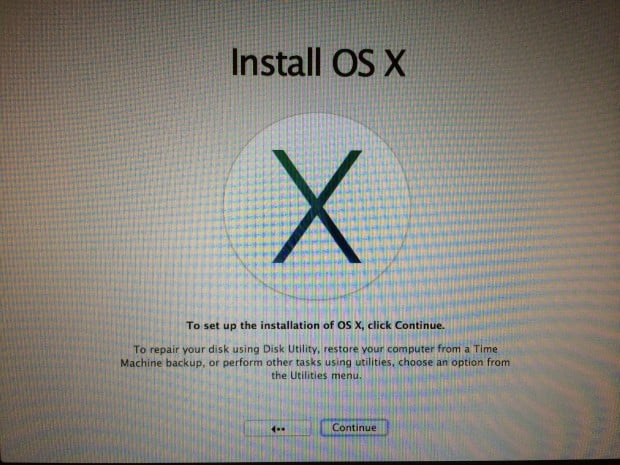 With that said, here's how you can install a fresh copy of OS X Mavericks and start with a clean slate. Be warned, though: Performing a clean install of OS X requires you to make a bootable install drive using a USB flash drive. You'll be moving a lot of files around and dealing with Terminal. If this isn't something you're comfortable doing yourself, we'd suggest simply upgrading, or finding a friend who can perform a clean install for you.
Preparing for the Clean Install
First, you'll want to make sure that OS X Mavericks is supported by your Mac. Some Macs as far back as 2007 support OS X Mavericks, but for a full list of supported Mac models, check out this list.
You'll also want to backup everything before you begin the clean install. You can either use Time Machine to easily backup all of your files to an external hard drive, or you can manually pick and choose files that you want to keep, and transfer them to an external hard drive or USB flash drive.
Next, download OS X Mavericks from the Mac App Store. It'll download and save to the Applications folder automatically. Furthermore, after it's finished downloading, it may automatically begin the install process. If this happens, just quickly cancel it.
Making the Bootable USB Drive
In order to install a clean and fresh copy of OS X Mavericks, you have to create a bootable install drive using either a DVD, USB flash drive or an external hard drive. For this tutorial, we'll be using a USB flash drive, since not everyone has an optical drive on their Mac, and you most likely have a USB flash drive anyway. Just make sure it's at least 8GB in size.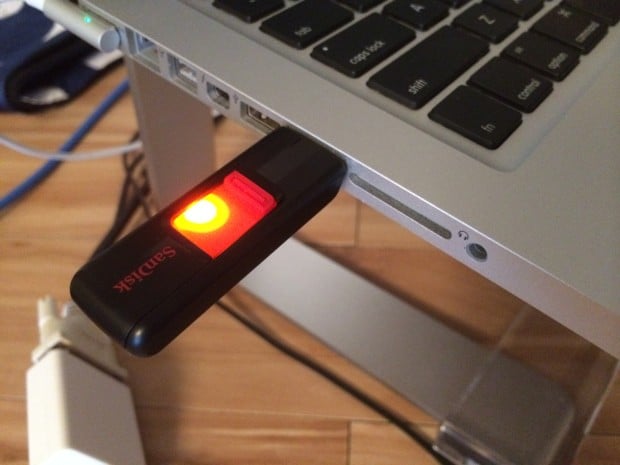 UPDATE: Reader Jason pointed out a quicker method for creating a USB boot drive of OS X Mavericks. Follow it below, especially if our initial method doesn't work for you.
Plug in your USB drive and open Disk Utility.
Select the USB drive in the sidebar and click on the Erase tab.
Select Mac OS Extended (Journaled) in the Format box and name it Untitled.
Click Erase and wait for the format to finish.
When it's done, close Disk Utility and open Terminal. Type in the following command and press Enter:
sudo /Applications/Install\ OS\ X\ Mavericks.app/Contents/Resources/createinstallmedia --volume /Volumes/Untitled --applicationpath /Applications/Install\ OS\ X\ Mavericks.app --nointeraction
This command will officially make the USB boot drive and it'll take about 20 minutes. While it's doing its thing, don't mess with Terminal or eject the flash drive. Once done, it'll say Copy complete. Done.
Next, scroll down to the Installing OS X Mavericks section in this guide to finish the install.
Our initial method (if the above method doesn't work):
Follow these steps in order to successfully create your OS X Mavericks USB boot disk.
Plug in your USB flash drive and open up Disk Utility.
Click on the USB drive from the left-side menu.
Click on the Partition tab.
Select 1 Partition from the drop-down menu.
Click the Options button and select GUID as the partition type.
Click OK to close that window, and then hit Apply. This will format the USB flash drive and prepare it for OS X Mavericks.
Next, you'll want to launch Terminal because you'll be entering in a couple of commands in order to show hidden files in Finder (you'll be moving around some hidden files later on). Enter these two commands as seen below and press Enter after each one. After you've entered these in, you can close out of Terminal.
defaults write com.apple.Finder AppleShowAllFiles TRUE

killall Finder
Hidden files will now be viewable in Finder, and they'll appear as slightly faded out. After you enter those two commands, you can close out of Terminal. However, this is only the beginning of making the bootable USB install drive.
Open up Macintosh HD from Finder and open the Applications folder. Locate the file labeled Install OS X Mavericks.app.
Right click on it and choose Show Package Contents. A new folder window will appear.
Choose Contents and open SharedSupport.
Double-click on InstallESD.dmg. This should open another folder window. If not click on OS X Install ESD in the Finder sidebar.
Once inside that, double-click on BaseSystem.dmg. (BaseSystem.dmg is a hidden file, which is why we put in those Terminal commands earlier). If double-clicking doesn't, right-click on it and choose Open.
Open up Disk Utility again and choose BaseSystem.dmg from the sidebar. Click the Restore tab.
Next, with Source set to BaseSystem.dmg, set Destination to the USB drive by dragging the USB drive into the Destination box.
Click Restore to begin the process and confirm that contents of the drive will be completely erased. This process will take 5-10 minutes
Sadly, I wish that was all there was to it, but you'll have to do just a couple more things to get your bootable USB install drive ready to go; you're in the homestretch, though!
When the restore process is finished, open up Finder and navigate within the newly-created USB drive to System > Installation and delete the file labeled Packages. Keep this window open, though, as you'll come back to it and be replacing the file you just deleted with a folder also named "Packages."
Go back to the OS X Install ESD mounted image and drag & drop the Packages folder into the that same folder that you just deleted the file from. Be sure to copy it over and not cut & paste. It's a large folder, so it'll take a little bit of time. However, after that's done copying over, the bootable USB install drive is done and ready to go! It's just smooth sailing from here, hopefully.
Installing OS X Mavericks
Now that you have a bootable USB stick with OS X Mavericks on it, it's time to install it. With the USB drive connected, reboot your Mac and hold down the Option/Alt key. This will bring up a menu where you'll select an install drive. Choose the USB drive that you just made (usually called OS X Base System in this case and will be colored orange). Click on the arrow pointing upwards below the drive icon to get started.
Now, before you install Mavericks, you'll want to erase and reformat your hard drive, so at the "Install OS X" screen, go up to the menu bar at the top and click on Utilities > Disk Utility.
Next, click on your main hard drive in the left-hand sidebar.
Click on the Erase tab and make sure Mac OS Extended (Journaled) is selected in the Format field.
Give the hard drive a name. If you want to stick with the Mac naming convention, go with Macintosh HD.
Click Erase in the lower-right corner to begin the wiping process.
After that's done, close out of Disk Utility, where you'll be brought back to the "Install OS X" screen.
Click Continue to begin the OS X Mavericks installation process and follow the steps provided.
Enjoy OS X Mavericks!
This is a pretty complicated method for creating a bootable install drive, but we're guessing that once Mavericks has been out for a few months, there will be third-party tools released that will make the creation process easier, similar to that of OS X Mountain Lion tools that easily created a USB install drive for you. For now, though, this seems to be the only way that works.