Periscope App: What You Need to Know
What if you could stream your wedding? What if it was easy for you to take an event in your life and share it with more than just the people you can reach with a DVD or a photo album? The still fairly new and barely tapped Periscope app enables you to share your world. It puts a new twist on the old activity though.
Periscope is a live streaming video platform. Available for Android or iPhone, the app lets users create an account and get video footage out to everyone that wants it. All of this happens for free, with both versions of the app available without a cover charge. Users can watch Periscope video footage on their mobile devices as if they were watching a movie or television on Netflix. That ease of use is the point; the Periscope app is about making live broadcasts easy for everyone to create and find.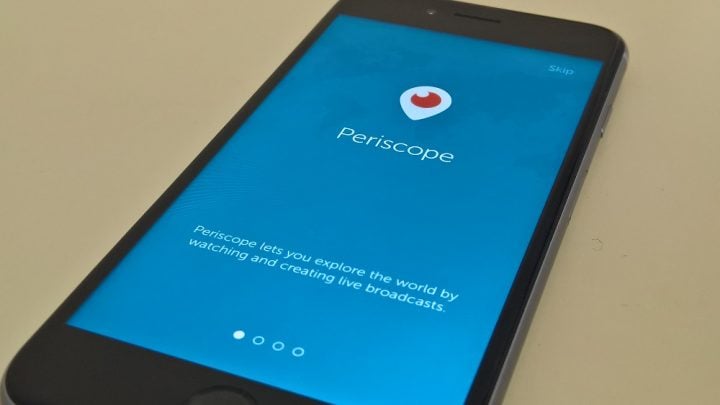 Here's what you need to know about Periscope for iPhone and Android so that you can broadcast your memories and reach your audience in real-time.
Getting Started with the Periscope App
Any quest with Periscope starts with accepting one significant truth. As it stands right now, the app is designed as a primary extension of another social network website: Twitter. That makes sense, Twitter actually purchased Periscope just as other livestreaming video services were starting to take off.
You can use your phone number with Periscope, but the app really does put the focus on Twitter. During the setup process you're asked to connect an existing Twitter account to use the app. For a few seconds the app reaches out to Twitter, importing your display name, profile picture and user handle.
It's up to you to change these defaults if you want. You can assign a picture that's specific to your Periscope account and not showcased on Twitter. There's an option to go without using the same display and username too.
Finding Periscope App Broadcasts
Regardless of your broadcast name and all, you definitely want to go with Twitter setup. Doing so allows some pretty great sync options. In short, it's far easier to get started using Periscope if you already have a set of friends that have carried over from the social network.
Periscope reaches out to your Twitter account and gives you the option to follow anyone that has an account with the service already. You'll only see the people who you follow on Twitter, so in that respect it saves you from being bombarded by the livestreams of people who might follow you on Twitter that you've chosen to ignore.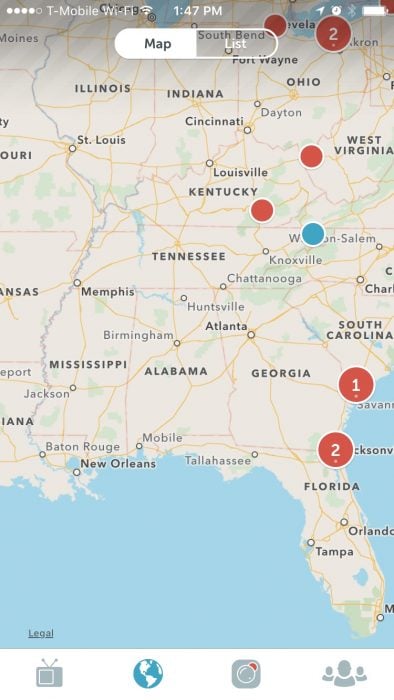 Because Periscope is all about livestreaming video, the app has to make it easy for you to discover when someone who you follow has a livestream going. It attempts this with notifications. For the best experience, you'll want to give the app permission to tell you exactly when someone who you follow is ready to broadcast live footage from their smartphone or tablet. Definitely enable this when asked.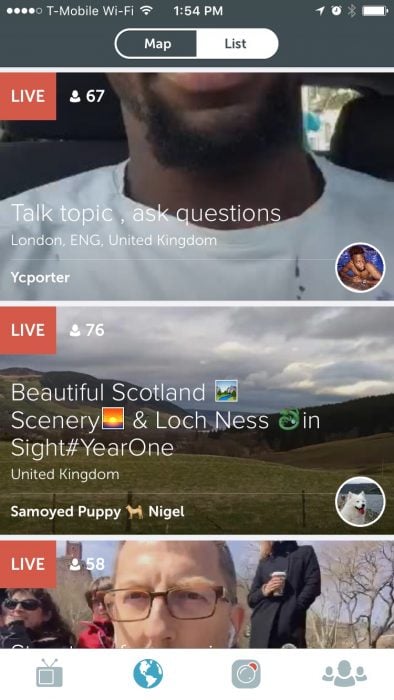 Finding people you don't follow is easy too, but depends on the apps integrated map. Using location information, Periscope overlays every user's livestream across the globe. A red circle indicates when a broadcast is live. At first, these circles will seem few in number, but they grow as you zoom further into the app. Blue circles indicate that a Periscope user recorded a video recently at that location. You can switch to a list view, but the map view helps you better navigate the different streams around the globe.
How You Interact with Other Periscope App Users
One of the first things you'll probably notice about each stream is that Periscope tracks how many people are watching currently. This lets both you as a broadcaster and viewer gauge how interests in a particular stream. At a broad level, a Periscope is at its best when there's a bunch of people watching.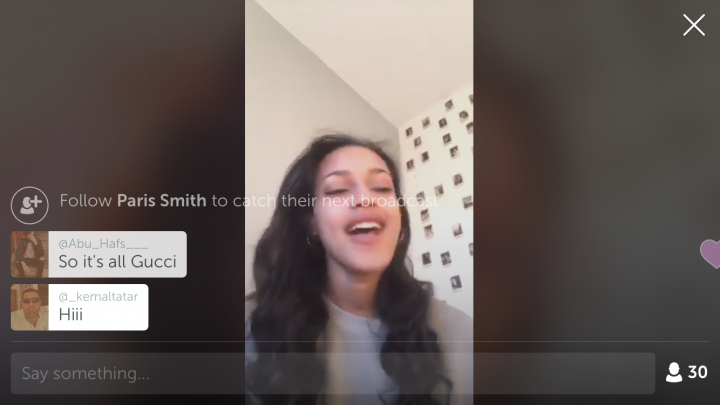 That's because Periscope lets those watching a broadcast interact with the host and each other. Hearts will pour in from viewers who love what they're seeing. At the same time, users can type out a message during a livestream. All messages sent during a livestream can be seen by everyone else watching and the person actually doing the stream.
Periscope also notifies a broadcaster when you take a screenshot. This results in some pretty nifty moments. I've had people decide to pose because they knew I was taking a screenshot to post some place.
Broadcasting with the Periscope App
Broadcasting with Periscope is just a button tap away. The first time that you attempt to broadcast, you're asked to grant the app the permissions it needs to access your device's different sensors. Periscope uses your device's microphone, GPS and cameras. All three are required to get broadcasting working.
You can disable location information before a stream starts. Kicking off a stream requires a description of what people will actually see during your stream. Buttons along the bottom edge of your display allow you to decide who you want allowed to post messages in your stream and if you want to share a link of your stream over Twitter.
https://www.youtube.com/watch?v=c5ksqK5wWiA
Anything, anything at all that you broadcast can't be something that's copyrighted. For example, if you're at a sports arena and are thinking of broadcasting footage from it, don't. The same goes for television shows and other media. Streaming your reactions to something that's happening during a copyrighted event is ok. Streaming the event itself is not.
Also keep in mind that your streams aren't available after they've been posted for a day. Katch.Me does allow for video archiving, but you have to set it up separately, then give it permission to access your Twitter Account. Besides staying away from copyrighted material, you absolutely want to keep an eye on how much bandwidth you're consuming with Periscope. Watching over Wi-Fi is fine, but viewing and broadcasting on your data connection can put a huge dent in the amount of data you have left to last you the rest of the month.
Read: How Much Data Does the Periscope App Use?
Good luck broadcasting with Periscope.