Phatware Releases PenCommander 2.0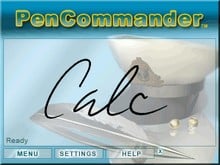 As the slowly increasing wave of applications tailored for running under Vista is released comes word that Phatware has released PenCommander 2.0. PenCommander 2.0 is a system utility application that features a powerful scripting technology, now enhanced to support Vista. Some of the new features include:
New PenCommander skins

Updated Scripting engine to allow for new user-level functions and improved performance

Ability to select a handwriting recognition engine, useful if multiple languages are used

Commonly used keyboard shortcuts and PenCommands can now be assigned to single stroke gestures

New customizable user interface for Visual PenCommander

Input Panel can be made semi-transparent, for viewing other applications under the panel.
Here's a link to the press release. Price is set at $29.95 and there is a $10.00 discount offered at this link.

As an Amazon Associate I earn from qualifying purchases.