Philips Fidelio Docking Speaker For Android Review
Those of us with Android phones are well used to not having many accessories designed specifically to work with our devices. Speaker docks in particular.
Philips' Fidelio line of speakers for iPhone, iPod and the iPad offered really great sound plus playback and clock/alarm capabilities in a compact form factor. Long did I wish for a version that worked natively with my Android phone.
Two years after introducing the Fidelio line, Philips is finally courting the millions of Android owners in the market for a good speaker dock.
The new Fidelio for Android speakers have what Philips has termed a "Flexidock," which is just what it sounds like. This smart bit of engineering allows the dock to work with almost any Android smartphone or similarly-sized device, fragmentation be damned. And, just as with the iDevice versions, you still get superior sound and an app for extra control.
Does the mid-sized Fidelio AS351 Android dock belong on your holiday wish list? Read on to find out.
Philips Fidelio AS351 | $129 | Android Speaker Dock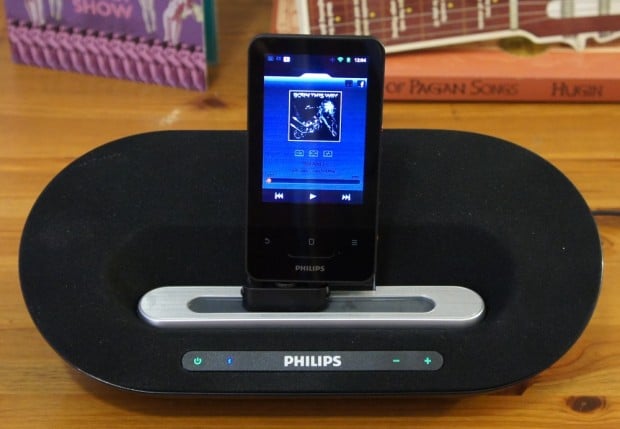 Pros

Flexidock fits almost any small Android device
Easy setup
Excellent audio quality
Runs on AC or batteries

Cons

Fidelio app is wonky
Have to remove many devices from the case
Video Review
Design
In the center of the oblong-shaped speaker is the Flexidock itself. A micro USB connector sits on a little notch that not only rocks forward and back to accommodate different phone thicknesses, but also slides side to side. This allows for phones that have the USB port on the long sides to still fit.
The connector rotates 180 degrees – no matter which way your port faces, you can still dock the phone with the screen out. Two plastic bumpers on either side of the connector raise up or down, again to accommodate a variety of sizes and shapes and configurations.
A plastic backing holds phones in place since the micro USB port is small, unlike the iPhone's stabilizing connector.
This is a lot of moving parts, but it's necessary for the purpose. It's very clever, too, since it allows the Fidelio to have a similar look to the iOS version while still working across devices.
The only issue I encountered with this setup is that you have to remove the phone from the case most of the time if it's going to sit properly on the connector, especially if your phone has a port on the long side.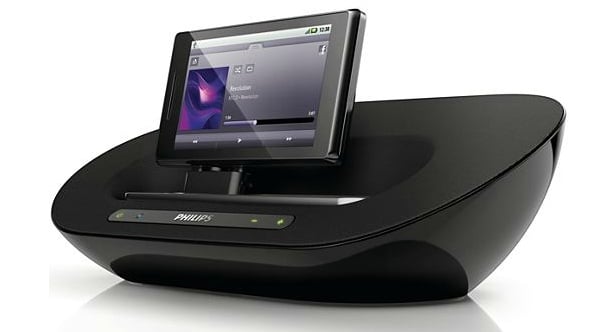 Just in front of the Flexidock are the Fidelio's few control buttons and indicators: a power button, Bluetooth LED, and volume toggles.
Connection and Audio Quality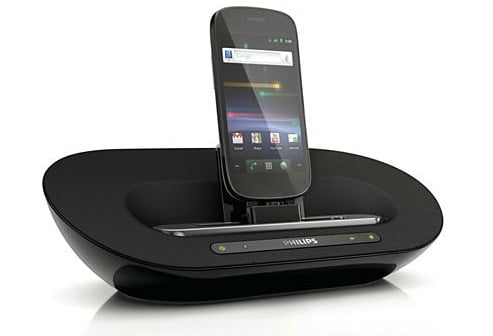 Unlike iDevices, there's not much communication that can happen between the phone and an accessory via the micro USB port right now. That means the Fidelio can't get music through that connection. Instead, the Android version relies on Bluetooth.
The AS351 connects just like any other Bluetooth speaker. If users download the Fidelio app from the Market, it can sense when a device is attached to the speaker's connector and automatically turns Bluetooth on (after the initial setup). The app isn't necessary, though.
Removing the phone from the dock won't stop playback. Since it doesn't require a physical connection, you can set the phone anywhere and still listen.
Audio quality is really good for something so small. No matter what kind of music I listened to, be it rock, hip-hop, classical, live, or folk, the Fidelio AS351 offered round, deep tones and plenty of volume.
Many will use this as a bedside clock due to the size, but I brought it to my living room and used it during a party to great effect. I also used it in the kitchen while washing dishes and didn't have to max out volume to hear it over the running water and clanking.
Other Features
In addition to power via an AC adapter, users can make the AS351 more mobile by adding 4 AA batteries. This will power the speakers and charge devices.
On the back of the device there's a 3.5mm jack to connect non-Bluetooth devices like other MP3 players or a laptop.
A USB port offers another way to charge devices, such as those with a mini USB connector and not a micro one.
Fidelio App
Philips included several extra features in the Fidelio app that may please those of you who haven't found the perfect alarm clock or music playing app yet.
It comes with several nice clock styles and skins, so users can customize a bit. The main screen also offers up basic weather information. And, of course, there are fairly robust alarm functions.
To use music for alarms you'll need to download the Songbird app. This is a decent music management app that has a desktop counterpart, which will help you manage and transfer music to your phone.
The app includes some pre-defined equalizer settings. Just four basic ones, which is enough for most people, plus a Dynamic Bass Boost toggle.
Aside from this, the app also facilitates connection to the speaker a little better than the default Bluetooth utility on Android. It's also useful for devices where the USB port is on top, thus it has to sit upside down on the dock. Not all phones will turn the interface upside down, but the Fidelio will.
Still, I ended up uninstalling the app after a few days because it drained battery on one of my devices. Also, on my Epic 4G, plugging into any micro USB connector triggered the app to try turning on Bluetooth and looking for the speaker. As it's not necessary, I don't miss it.
The Bottom Line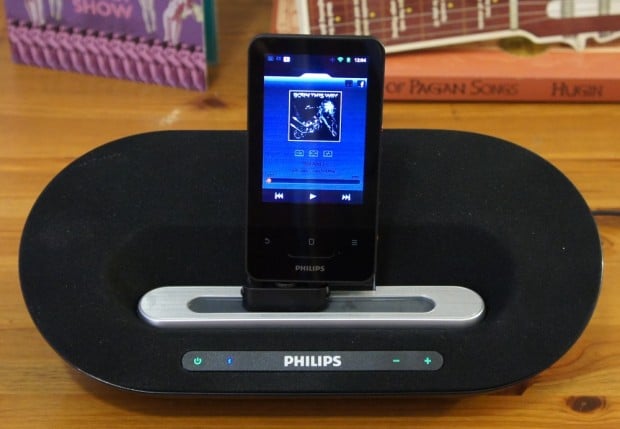 If you're looking for a great Bluetooth speaker with excellent sound and a small footprint, then the Philips Fidelio AS351 is a great choice. If you're an Android owner tired of wrangling with accessories that weren't made with your phone in mind, the Fidelio is still a good choice. If you love music and don't have the room or the cash for a big, expensive sound system, the AS351 is an excellent compromise.
For those of you looking for something smaller or larger, Philips has three other Android docks in the Fidelio line, including the amazing AS851 with big, booming sound.
It's a good value at $129, though you can find it [amazon_link id="B005HY4UPK" target="_blank" container="" container_class="" ]online[/amazon_link] and in some stores for as little as $99.

As an Amazon Associate I earn from qualifying purchases.