If you're looking for a great smart lighting solution for your home, Philips Hue allows you to control your lights from anywhere, adding convenience and a little pizazz on top.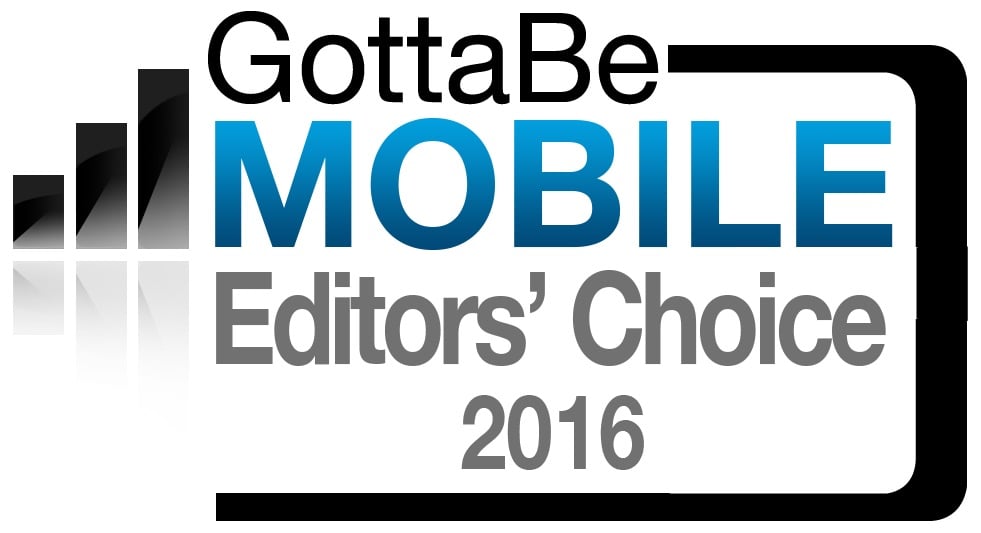 Philips recently updated its Hue Bridge, giving it a new look, as well as including Apple HomeKit support, which allows you to control your Hue lights using Siri.
Read: The Best Smart Home Products
Along with the update, Philips also improved its Hue bulbs by making them brighter, going from 600 lumens to 800 lumens. However, that's really the only change that was made, even though Philips touts them as "2nd generation" bulbs.
Still, that extra 200 lumens is crucial, as most standard LED bulbs nowadays are 800 lumens or more.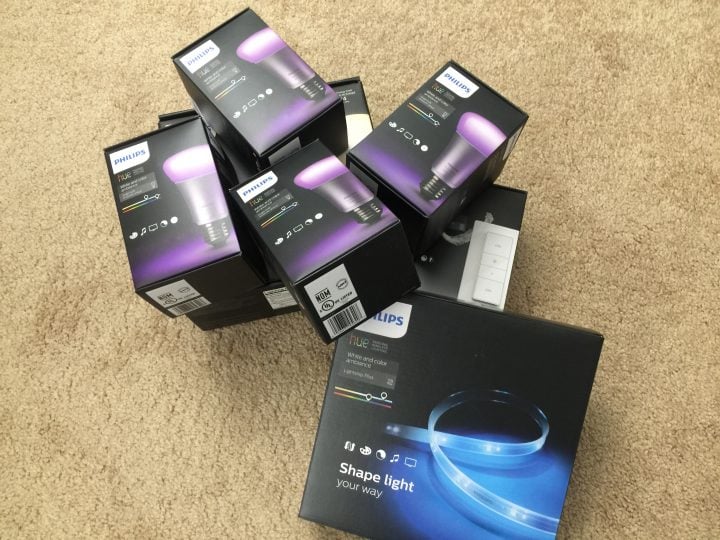 Unfortunately, the new bulbs haven't received any kind of color upgrades, so they still can't do green or blue too well. The closest you can get to green just looks like something out of Saw, and the closest to blue looks more like a purple.
Read: Best Philips Hue Alternatives
The company was also recently in some hot water when it initially announced that it would no longer support third-party smart bulbs, but after the mutiny that came afterward from Philips Hue users, the company eventually backtracked on that move and you can continue to use some third-party bulbs with the Hue Bridge, including bulbs from Cree, GE, and Osram.
Then again, Philips offers a handful of options when it comes to Hue bulbs. They have the regular E26 color bulb that you're probably used to, as well as a white-only E27 bulb that costs only $15. Philips also offers PAR16 spotlight bulbs for recessed lighting, and a larger BR30 bulb for flood light. You can also get other cool Hue products, like the Hue Go (a battery powered light fixture), and the LightStrip Plus, which are LED light strips that you can stick to pretty much anything.
I do wish they made a white-only bulb that could change color temperature. Instead, you have to get the $60 E26 color bulb, as the $15 Hue White bulb can't do this. I also wish they offered bulbs in higher lumens. 800 lumens is fine for the most part, but I have two bulbs in my office and even at full brightness, I wish they were a little brighter. I enjoy having bright daylight in my office, and two Hue bulbs doesn't quite cut it.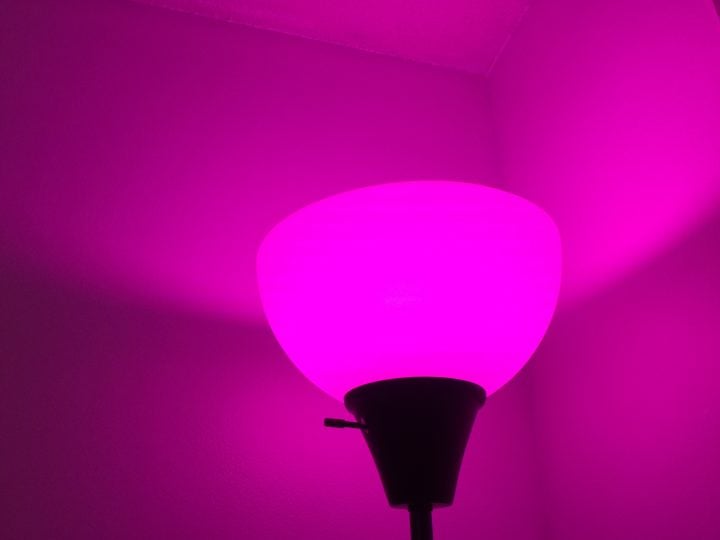 As far as the official Philips Hue app is concerned, it is awful. I think the biggest thing wrong with the app is the color selector. You can move around the pin for individual bulbs and even group them together, but it's a horrible user interface.
Instead, you should be able to group together bulbs separately, give the groups names, and then be able to select a group to change the colors of the bulbs, instead of having all of the bulbs laid out at once on the screen, since it looks like a mess.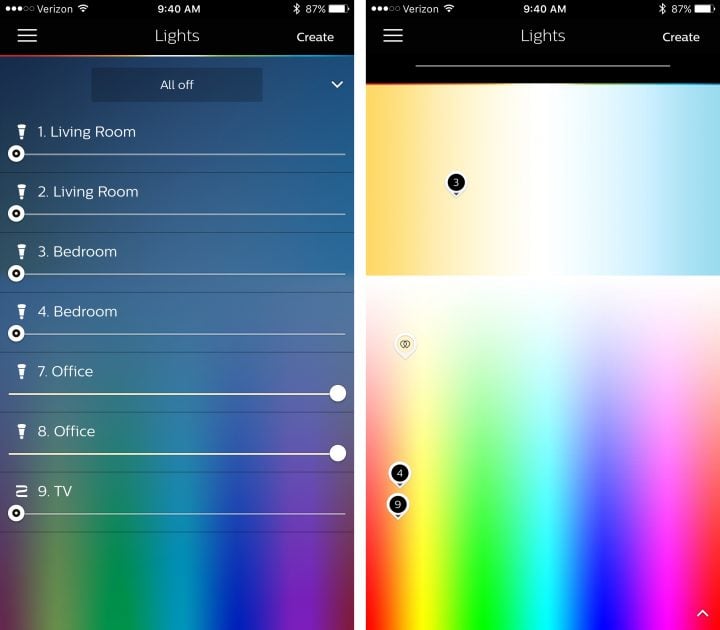 A neat feature in the app, though, is Scenes, where you can create presets for lights and tap on one button to activate those presets instantly. However, the interface for this looks absolutely awful. Just take a look for yourself: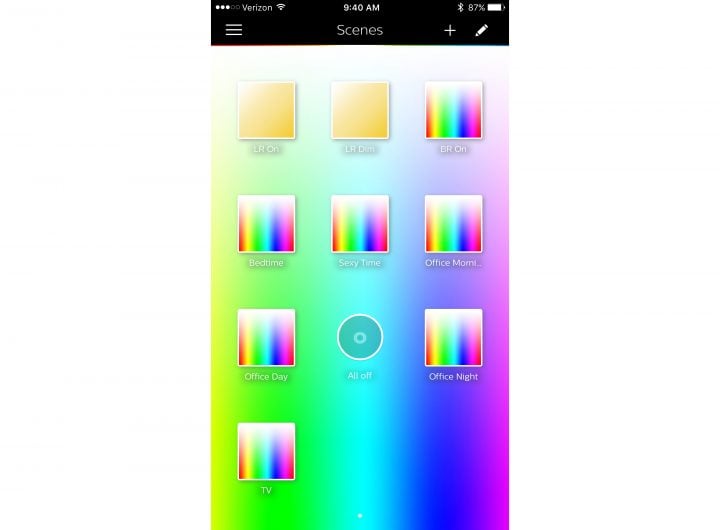 Granted, you can put in a photo in the squares, but for a default look, it's pretty awful.
Plus, for some reason whenever I receive an "Update Available" notification within the app, it stays there until I manually dismiss it, even after I applied the firmware update. It's just small annoyances that add up that make the app not that great.
The app also allows you to create alarms and timers, as well as have your lights automatically turn on and off when you get home and when you leave, respectively. Unfortunately, you can't set a schedule for the lights within the app, but there are other methods for that.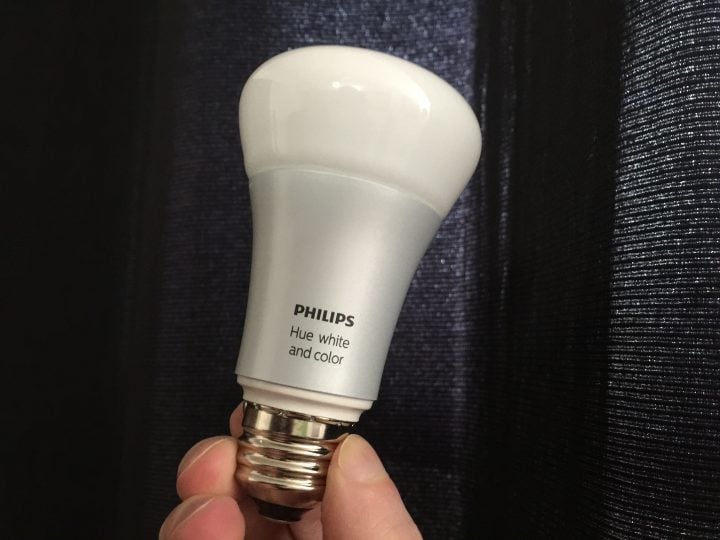 Luckily, the app isn't a huge deal, and Philips has opened up their source code so that app developers can make their own apps for Philips Hue, giving users better interfaces for controlling and managing their lights. I really like Huemote and iConnectHue.
Siri compatibility is perhaps one of the coolest features, and it's what made me start to use Siri more often now. I do have a Notification Center widget set up for Scenes, but it's just easier to hold down the Home button and tell Siri to turn on the lights.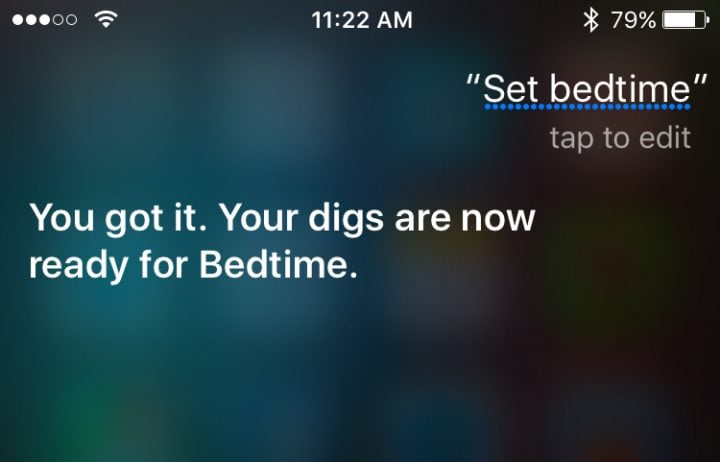 Siri understands the basics, like setting certain scenes, and turning on lights in certain rooms, but you can also be more specific and tell Siri to change the color of the bulbs. Even being super specific like, "Set the lights to fuchsia" will turn your bulbs a nice purple color.
And if you don't want to use your smartphone to turn on and off your lights at all, Philips makes physical switches that you can use, in the form of a Dimmer Switch and the Tap. The Dimmer Switch is a simple on/off switch with integrated dimmer buttons for your lights, and it can easily be mounted on your wall with the included adhesive to look like a normal switch.
Plus, the switch can be taken off and carried around with you, leaving the plate behind on the wall. The two components hold together using magnets.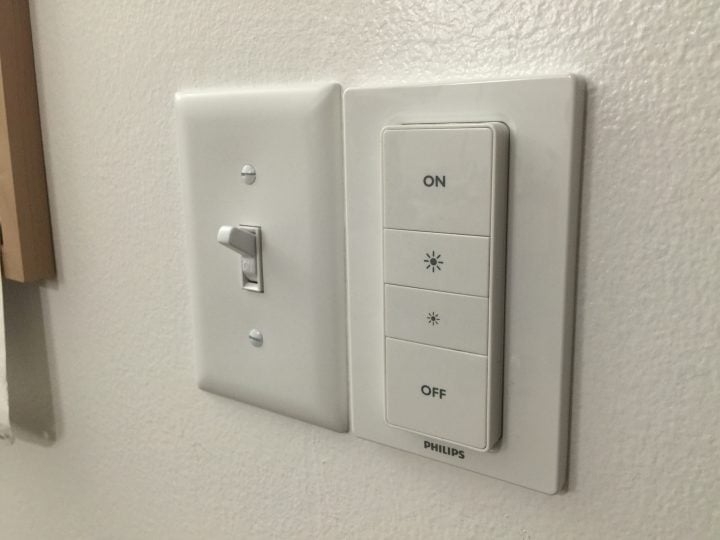 The Tap includes three buttons that allow you to program three different scenes for these buttons. So for example, something like this would work great in my home office, as I can have a scene that turns on the lights to a dim setting with a warm color temperature in the morning, a scene for a bright daylight temperature during the day, and then another scene that's something fun. The Tap allows me to quickly change between scenes without needing to fiddle with my smartphone.
Bar none, Philips Hue is the gold standard in smart lighting right now. There are other competitors out there, like Osram, Belkin WeMo, and Cree, but none of them are quite as popular as Philips Hue and don't have quite the widespread integration into other services.
Of course, I have my minor complaints about Hue, but there's really nothing quite like it on the market, and there's no other smart lighting brand that has as wide of a selection when it comes to different bulbs and accessories.
So if you're looking to get smart lighting for your house, it's a no-brainer to go with Philips Hue. They might be a bit expensive for your budget, but even if you just go with the $15 white-only bulbs ($10 if you get the Dimmer Kit), it can make your life way more convenient with little cash.

As an Amazon Associate I earn from qualifying purchases.