Phone Soap: Clean and Charge Your Phone
It appears that one of the accessory and lifestyle trends for mobile devices has to do with keeping our smartphones germ free. At CES 2014 we say Corning, the makers of Gorilla Glass, announce a new display material with a new antimicrobial treatment to inhibit the growth and spread of germs on your device. And now comes Phone Soap. 
Before you get all lathered up, Phone Soap isn't a soapy detergent for cleaning your phone. Instead its an enclosure that will bathe your smartphone in germ killing UV light while simultaneously charging your device. To say it looks like a tanning bed for your smartphone wouldn't be too far off the mark.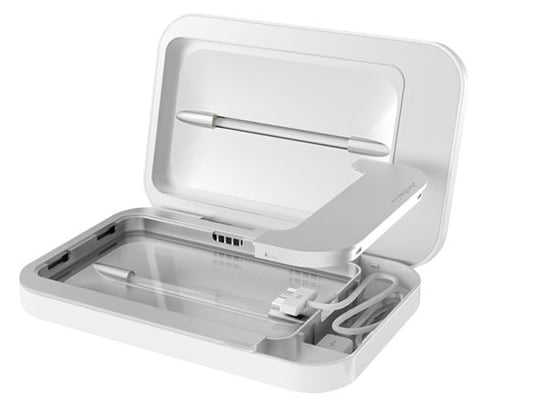 It will supposedly fit any smartphone including phablets. The process according to the product description works like this:
The two UV-C lamps in PhoneSoap Charger produce a very specific wavelength of light which encompass your phone and pass through the cell walls of bacteria and virus to impair their DNA. Once the DNA is compromised, the cells die and can no longer cause infections or disease. The best part, PhoneSoap Charger kills "SuperBugs" that have developed resistance to the chemicals and antibiotics that used to be effective.
There are three bands of UV light ranging from A to C. UV-C, which is used in this product, is supposedly a germ killing band while the others are not. The video tells us that the cleaning process takes 4 to 5 minutes, of course charging your device takes longer. There is also an acoustic amplifier so that you can hear any alarms or notifications that might go off while your smartphone is being cleaned.
Phone Soap is available for $49.95. How about you, is keeping your smartphone germ free a concern of yours? Will these kinds of products influence your purchasing decisions. 

As an Amazon Associate I earn from qualifying purchases.