PhonePad+ Pairs Up With Galaxy S3 to Mimic Asus Innovation
Remember the Asus-made Padfone that attempted to turn your Asus smartphone into a tablet through a hybrid convertible design? Well, a third-party accessory-maker thinks that Asus' novel creation is worth the inspiration and created a similar concept for Samsung's smartphone, which attempts to pair a Galaxy S3, Galaxy S2, and even a Galaxy S4 with the tablet display so you can view your phone's content on a larger screen. The accessory is unsurprisingly called PhonePad+, which shouldn't be confused with Asus' phablet Fonepad.
As reported by Phandroid the PhonePad+ connects to Samsung's flagship Galaxy S series smartphones through the MHL connector at the bottom of the device. The phone itself will provide the processing power, storage, RAM, and the underlying Android OS to power the display of the PhonePad+'s tablet screen; without the Galaxy S smartphone, the PhonePad+ would be just a big black screen.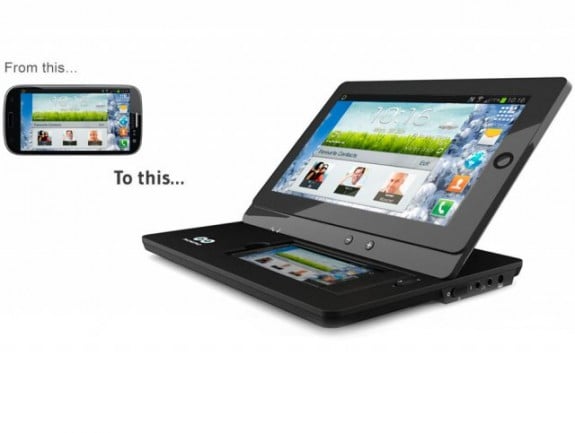 Unfortunately, though, the PhonePad+'s 10.1-inch display is rather low resolution. I's just a 1024 X 600-pixel display compared with many high-end tablets of that screen size that come with a more pixel-dense 1280 X 800 display. Even the Galaxy S3's smaller display packs in more pixels than the PhonePad+'s larger display, which is a shame. That said, you'll probably feel less cramped on a larger display, but you won't be getting a true tablet user experience. Instead, the display will mirror your phone, meaning you'll be running smartphone apps blown up to a larger display scaled to a lower resolution screen. This means you won't benefit from multi-pane apps that are the crux of tablet UXes.
It's an interesting concept, none the less, and the design also has a tilt up display so the tablet can have its own stand. The device is expected to arrive in June for 19 Euros. At that price point, if users are not looking for quite a large 10-inch display, it may be better off to own a smartphone and separate 7-inch tablet, like an inexpensive Galaxy Tab 2 7.0 or a Nexus 7, though the two-device arrangement means you'll have to manage your data between two devices.