Photo Samples from Sony Xperia Z Camera Look Great Compared to Oppo Find 5, iPhone 5
On paper, the 13-megapixel Exmor RS sensor on Sony's flagship Xperia Z is phenomenal with features like HDR photo and video, sweeping panoramic image capture, low light photography, image stabilization, face detection, and touch to focus. However, since the announcement of the 5-inch Xperia Z smartphone at the Consumer Electronics Show earlier this month, we haven't heard much about the image quality or seen much in terms of sample images captured with the Exmor RS sensor. Now, through a series of posted pictures that have been blogged about on Xperia Blog, we are getting a better sense of how the 13-megapixel Exmor RS sensor performs under various lighting conditions.
The images are compared with the 8-megapixel camera of the iPhone 5 and also to Oppo's Find 5, which boasts similar specs to the Sony Xperia Z and is said to also sport the same Exmor RS image sensor.
In normal daylight conditions, it looks like all phones performed well, with the Exmor RS sensor on the Sony flagship capturing and retaining more details than the 8-megapixel on the iPhone.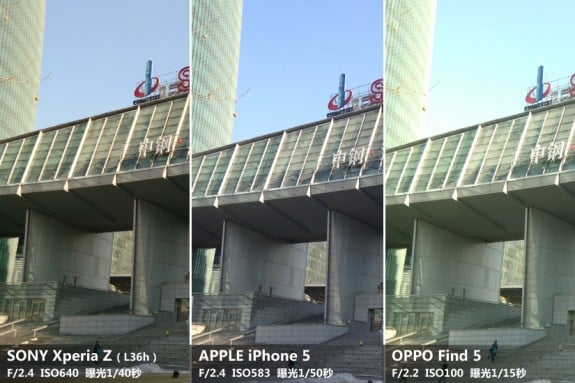 Under darker lighting conditions, results were a bit more mixed, but in some shots, the Xperia Z had less noise than the iPhone 5.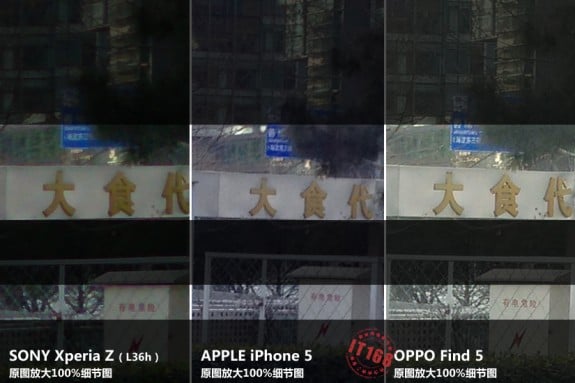 Also, the iPhone 5 appears to produce colors that are a bit more warm than the Sony and the Oppo Find 5's processing led to the coolest colors of the trio.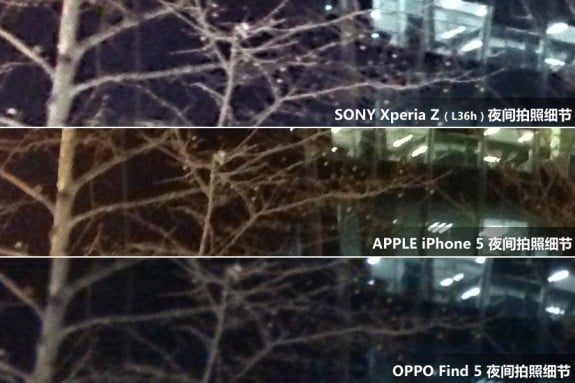 In the panoramic shot shown below, the Exmor RS sensor on the Xperia Z really shines with its ability to retain details and show better dynamic range than its competitors.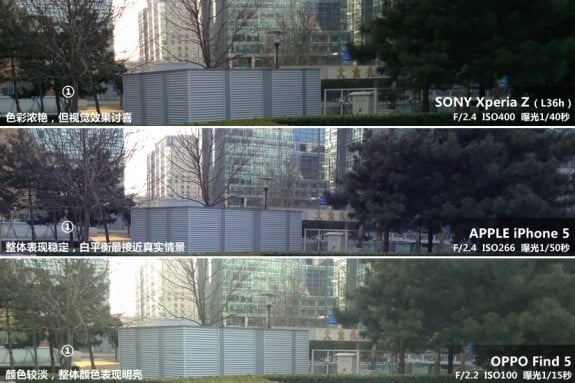 It's unclear if the following image was captured via HDR, but it looks like Sony did a good job of pulling highlights out of shadows and controlling the exposure in environments with high contrast. Whereas the iPhone 5 and the Find 5 focused more on the bright areas to pull details out from the tree branch, Sony's Xperia Z overexposed and clipped details in that area and focused more on the shaded areas of the building.
In the following shot, you can see that colors are warmer and more vivid on the iPhone-captured image of a brightly lit scene. I kind of like how the iPhone renders that image better than the Sony one and the person standing in front of the house looks to be a bit more focused on the iPhone shot than on the Sony shot.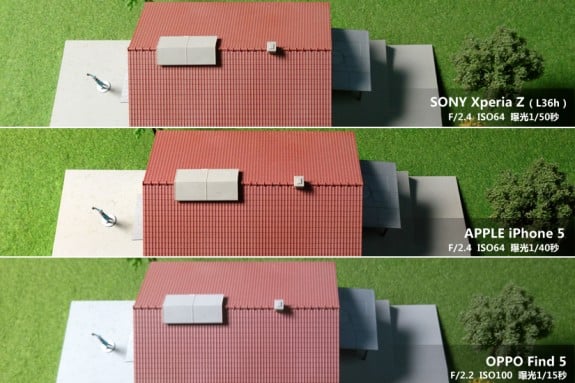 Pixel-peepers should go to the Xperia Blog to see the remaining image samples.

As an Amazon Associate I earn from qualifying purchases.